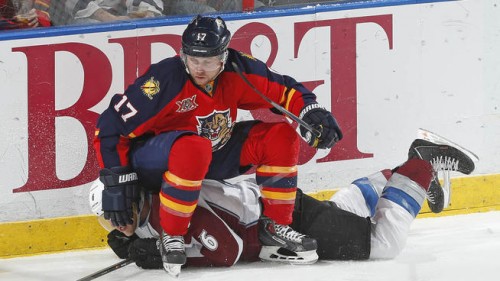 ***DISCLAIMER- I don't actually hate Mario Chalmers***
Basketball. It's enough to force a frustrated young Heat fan to binge write into the wee hours of the new day. I'm looking at you, Chalmers. YA DUN GOOFED, CHALMERS.
It goes without saying, but scoring is important. In almost every sport, the object of the contest is to outscore your opponent; he who sticks this sportsball into that goal/hoop/thing the most, wins. It's like trigonometry, except way less complex, and way more useful. In professional leagues where games are often hotly contested cutthroat affairs, an effective offense more often than not proves to be the crucial difference-maker between riding high on the waves of victory and sinking faster than the Titanic in the Atlantic. The only difference? The Lusitania won't be there to bail your ass out of Davy Jones' Locker.
Math sucks. Drowning sucks. Mario Chalmers sucks. The Florida Panthers suck. A well-rounded type of suck, we'll focus on their offensive suck for the sake of this short opinion piece. You know what doesn't suck? The NHL draft. You know who doesn't suck? These guys.
Hunter Smith

Right Wing
6'7″/218 lbs.
Oshawa Generals/OHL
Final Rank: 39th, North American
Dale Tallon's borderline fetish for swift, sizeable skaters is well understood; building the framework of now-perennial championship contenders Chicago Blackhawks in this image, the Sunrise blueprint is slowly taking the same shape, with the ultimate aim being the propulsion of the Florida Panthers into the Stanley Cup picture. Therefore, it'd be reasonable to assume that the Cats' GM would follow suit if he sought to shore up a thin right wing position. If he wanted to select a skater built more like California Chrome, he'd take this native of Windsor, Ontario.
Let's get something straight here-Hunter Smith is BIG. Seabiscuit over here clocks in at 6'7″, with his healthy 218 pounds being plenty enough to ruin any mere-mortal-who-dares-cross-his-path's day. Per Top End Sports, Smith has an engine rivaling his quadruped comparable, churning out a brutal 13 minutes on the VO2 Max test bike, good for sixth at this past week's NHL Combine and powering his steep ascent from the 140th ranked North American skater in NHL Central Scouting's Midterm rankings to 39th in the end. A second year player for the Ontario Hockey League's Oshawa Generals, Smith found his offensive game, potting 40 points off of 16 goals. Dressing for 64 games, he also hit triple digit PIMs, accumulating a century and showing a sharkskin edge to his already big game. The lad's got quite the burgeoning Hockey Fights portfolio to boot, and Lord knows what could possibly happen if he-by an act of God-ends up on a line with Nick Bjugstad and Jimmy Hayes.
Lucas Wallmark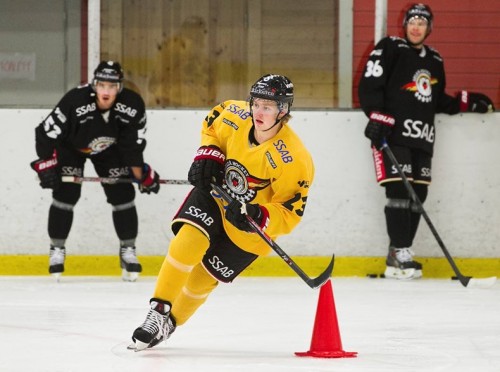 Right Wing
6'0″/176 lbs.
Lulea/SHL
Final Rank: 20th, European
If Hunter Smith is the proverbial bull in a china shop, Lucas Wallmark is the elderly Oriental man chasing the beast around with a frying pan. Sublimely skilled, the talented Swede provides an offensive streak a mile wide. The 6'0″ 18-year old has shredded the competition at his age level, raining points on his Junior peers like Uncle Drew getting buckets on the Clark's Pond Courts. He's met equal success at Sweden's second-tier, scoring at a near point-per-game pace splitting time between Karlskrona and Asploven. A veteran of 41 SHL games, the Umea-born product tallied ten points off of three goals, a relatively impressive feat when taking into consideration that he-for all intents and purposes-is a growing boy playing against grown-ass men. Elected to represent Sweden at this past World Junior Championship, the young Wallmark potted eight points off of three goals, pacing a Swedish contingent that fell in overtime to the rival Finns in a hotly contested bout for World Junior supremacy.
As elucidated by Elite Prospects,
Wallmark has first-class hockey sense and vision. Very smart player and a highly skilled playmaker. Has good puck control and will also battle hard for the puck. Good defensive game and face-off skills. Major concern is his skating ability, as he lacks speed and acceleration.
So long as Douglas Murray plods and trods around an NHL rink, Lucas Wallmark's skating ability should shine in comparison, methinks. At any rate, straight-line speed and agility can be considered an acquired skill, nothing that a few bag skates and morning sessions with the team strength coach can't fix. Drill it and kill it, do what he'd like, it sounds to me like this guy DOESN'T SUCK.
Chalmers, flash to the high post! No, the HIGH post. Somebody help him.
Don't reach youngblood, he terrifies his city.