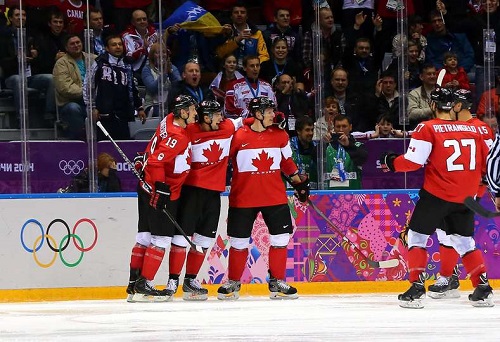 Ten St. Louis Blues players were called to go the 2014 Sochi Olympic Games. Of those ten, four players are bringing home Olympic medals. The U.S.A. team may have suffered a defeating blow in the bronze medal games, but the S. Louis Blues still have a lot to celebrate.
Between the three defensemen and five forwards playing in Sochi, there was a combined 10 goals–4 of those coming from Oshie's shootout against Russia–and 14 assists. Whether their teams medaled or not, our Blues gave it their best efforts and the numbers prove that.
The players are not the only one's going home with medals, either. General Manager Doug Armstrong and Head Coach Ken Hitchcock took home gold medals with the Canadian teams win over Sweden.
Armstrong said, "It was a great thrill in 2010 and then at Sochi in 2014. I think it's been a great success for all our players."
Hitchcock was equally optimistic about all of his players. "I don't think it's about winning the gold. I think it's more about dealing with playing under pressure," he said. "Every game means everything here. It's just like anything else, a great lesson, a step to reach the goals we want."
It would be easy for Hitchcock and Armstrong to stay positive and celebrate when they were part of the gold winning team, but both men stayed grounded in their interviews and were equally excited about getting back to the regular season.
Oshie, Backes and Shattenkirk, despite their losses with the U.S.A. team, remain positive about the second half of the NHL season. Oshie stated that, "playing with the best players in the world is a good experience and it was a lot of fun to be a part of."
When asked about his new found fame and excessive jump in Twitter followers, Oshie joked that he "was interested in seeing how quick people get sick of me." I might be a little biased, but I don't see that happening any time soon.
During his post-Olympic interviews, Pietrangelo was asked about Oshie's shootout against Russia–and the Twitter fans that followed. He laughed saying that "none of us were surprised, but it was a big coming out party for him."
Pietrangelo also commented on his own gold medal game with Canada. He said it was "still sinking in, a surreal feeling." This was Pietrangelo's first Olympics.
Backes, as every team captain should, was all about getting the team back together and ready for the last 25 or so games left. He said they only have "short term concerns about the time changes; and they're ready to gel back quickly with the [other] guys."
Backes also said that he was "very prideful. The Olympic Games have an aura about them that you can't replicate anywhere."
Not only is Backes all about team spirit, but he managed to bring home two stray dogs as well. David's wife and several other wives from the Canadian team worked quickly to get the necessary paperwork to adopt several stray pups that would otherwise be homeless. Team Captain and a philanthropist? It's almost too sweet to take.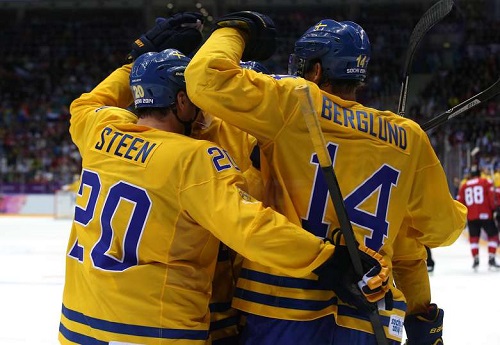 Although I would have liked to see U.S.A. bring home a medal, having four of our Blues bring home medals is a major accomplishment. And further, nine of our guys playing hockey with the best players in the world is an experience that these boys can only benefit from. Good luck, guys. Lets Go Blues!
The regular season starts up again for the Blues Wednesday, February 26th against the
Vancouver Canucks
.