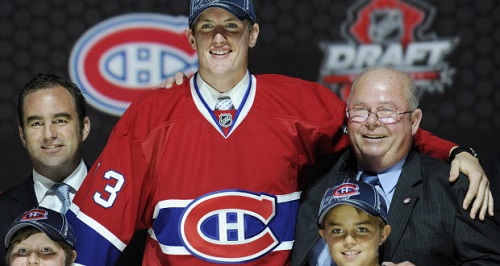 The Montreal Canadiens continued to trend up this year by reaching 100 points in the regular season and then going all the way to a game six of the Eastern Conference Finals in this year's Stanley Cup playoffs. They are a young team with many young players ready to expand their roles, a goalie in his prime and more confidence in their play than most teams.
So coming into this draft, the team isn't looking for someone to jump in right away. In the first round, they are picking 26th and will likely choose someone who has the potential to fill a need, but still needs to work on some things.
One player they may consider is defenceman Travis Sanheim of the WHL's Calgary Hitman. Sanheim is a 6'3 181 pound, disciplined defender who picked up 29 points and 14 penalty minutes in 67 games this season.
"A guy I've been told I play like is Jay Bouwmeester," Sanheim told Yahoo Sports Neate Sager when asked who he models his game after. "A guy who skates really well and is a good puck-moving defenceman."
This highlight video from bigwhite06 on Youtube captures Sanheim's strong skating and offensive flare.
With Andrei Markov getting older and the team lacking size on the backend, Sanheim has the potential to one day solve two problems. It's hard to say if he will be available to Montreal at 26. If not, there are other defencemen that could be available.
One of those players is Jack Dougherty from the US Development Program, which Montreal has gone to in recent drafts (Jarred Tinordi in 2010 and Mike McCarron in 2013 to name a few).
Dougherty plays a different style of game than Sanheim, focusing more on throwing big hits and less on scoring big goals. Montreal struggled with defensive first players on the blue line this season, with Douglas Murray and Francis Bouillon letting their age get the better of them quiet often this season.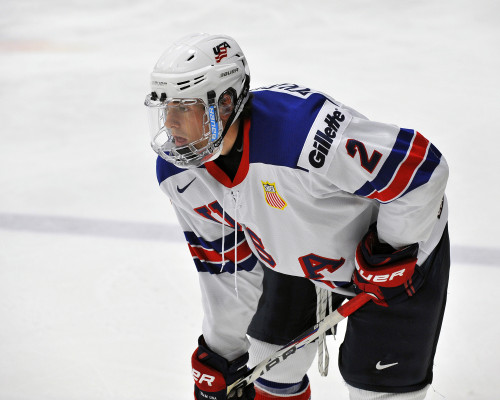 HockeyProspect described Dougherty's game as a "dependable, smart, simple hockey in the defensive zone," while McKeen's Hockey says he is "[a] substance over flash type of defender who brings a calming-businesslike approach to the backend."
Dougherty will move onto the University of Wisconsin next season and is probably three to five years away from the NHL. But with Tinordi, Nathan Beaulieu and Greg Pateryn all potentially stepping onto the blue line full time next year, Montreal can afford to wait a couple years for Dougherty.
On the forward front, there are a couple players the Habs may consider at 26th. One of them is Ryan MacInnis, son of Hall of Famer Al MacInnis. Ryan is a 6'4, 185 pound center who has good hockey sense and saw his game improve as his season with the Kitchener Rangers went on. He finished the year with 16 goals and 37 points on a team that missed the playoffs in the OHL.
"He's kind of like a Stephen Weiss," MacInnis's coach in Kitchener Troy Smith told Sager at Yahoo. "He's a very smart player. He's able to distribute the puck very well. I think he's going to be a good two-way centre. A guy who can put up points but also play in the last minute [of tight games]."
To see just how big and skilled MacInnis is, check out bigwhite06's highlight pack.
MacInnis will need to bulk up and work on his two-way game more, something an increased role on the rebuilding Rangers will allow him to do. But with many of Montreal's forwards barely standing six foot, any upgrade on size is a good one.
Another player the Canadiens may consider is Nikolai Goldobin, who played half a season with another Habs first rounder, Alex Galchenyuk, when the two were on the Sarnia Sting. He is an offensive force, netting 38 goals and 94 points this past season with the Sting.
Having him reunite with Galchenyuk in a couple years could be all it takes for Montreal to grab Goldobin, but there are other reasons to draft the 6'0, 180 pound right winger. Future Considerations says "Goldobin is a dangerous shooter with a wicked release on his wrist shot," something Montreal will lose when Thomas Vanek walks July 1st.
But many scouts have criticized his defensive ability, with McKeen's Hockey describing his play without the puck as "carefree." For that reason, there is a chance Goldobin does fall all the way to 26. If that's the case, Montreal is a team that can afford to take a risk on a player of that skill.
Just check out these highlights from Prospect Guru on Youtube to see how skilled Goldobin is.
With the NHL draft only one week away, all the teams are finalizing their lists of players they want to pick. Montreal could go a completely different way, but the four players above do fill needs for Montreal, even if they aren't ready for the NHL just yet.
What is certain is that the Canadiens don't mind picking in the bottom five picks for the second year in a row. This is a team on the rise and the players they draft should be picked for the future, not the present.