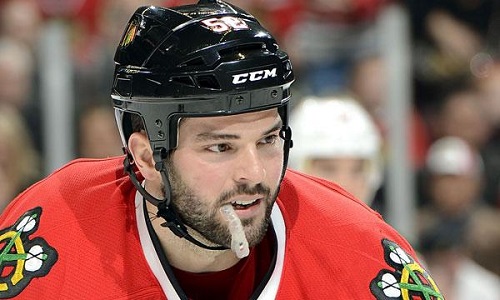 The Blackhawks downed the Winnipeg Jets Saturday afternoon 5-1 in a performance that showcased their scoring depth.
The fourth line of Bollig-Kruger-Smith was on the ice for three of the five goals today, and Bollig and Kruger (along with defenseman Nick Leddy) came out of the game with two points each. Kruger won the faceoff that led to the first Blackhawks goal by Niklas Hjalmarsson in the first period, and Ben Smith scored the final goal, and the only goal after Jets' backup Al Montoya came into the game. Bollig had both the game-winning goal and the first multi-point game of his career. He had three shots, and was a career best plus-three on the afternoon.
"The beard was weighing me down," Bollig laughed after the game. When asked if he considered the possibility of a Gordie Howe hat trick this afternoon, he said, "I did. If it wasn't a 5-1 game, that would have probably been the first thing on my mind. I enjoy [fighting], I enjoy the role. But I think I enjoy scoring goals more. Maybe I'll try to do that more often."
The Hawks' goaltending was nothing to sneeze at, either. Crawford constantly kept the game from tipping in Winnipeg's favor, and came out of his first career game against the Jets with a .963 save percentage, stopping 26 of 27 shots. He only let in one goal, a shot from the point by Enstrom. Crawford felt he was interfered with on that particular goal because his stick got tangled in the jersey of former Hawk Michael Frolik, but given his performance the rest of the game, as well as the offensive performance of his team, I doubt he ended the game minding too much.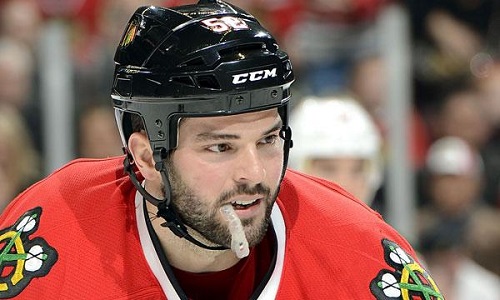 Patrick Kane got a chance on a penalty shot in the third period after getting hooked on a breakaway, but although he managed to beat Montoya, he shot a bit too high and rang the puck off the crossbar.
Jonathan Toews was held pointless in his first NHL game back in Winnipeg. "It brings it all back," Toews said before the game about playing in his hometown. "Just to be back here and think about where I grew up and all of the rinks that I grew up playing hockey at. Now that there is an NHL team back here, to be playing at this level is a pretty special thing."
The Blackhawks face the Flames at home tomorrow night for their first matchup of the season. The Flames are 5-6-2, but have some youngsters who have been showing offensive promise, including 2013 draft pick Sean Monahan, who currently has 11 points (7G, 4A). The Blackhawks' backup goaltender Nikolai Khabibulin has not been at his best lately, but coach Joel Quenneville has said he wouldn't put Khabibulin in until he was feeling confident again, which could mean that we see Crawford again in Calgary.