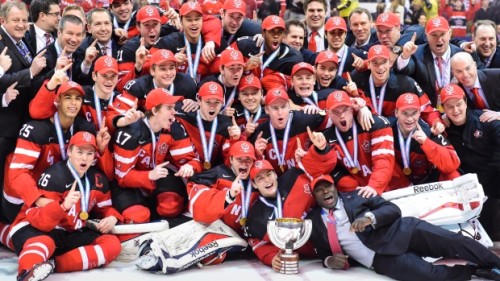 The holiday season is easily the most stressful time of the year for the majority of the population. If you're a hockey fan that stress is taken to an even greater level once the World Juniors get underway. And if you're Canadian – well, it's damn near impossible to stay sane for that just under two-week period.
That last part may be a bit of an exaggeration, but it wouldn't be a stretch to say the Canadians are a very demanding people when it comes to their hockey, especially at the World Juniors. With a gold-or-bust mentality, disappointment has become a regular feeling during the holiday season for Canadians (and no, being gifted socks has nothing to do with it).
That all changed at the 2015 World Junior Championships when Canada finally ended a five-year gold medal drought and two-year podium drought by defeating Russia 5-4. But the task of repeating as champions will be considerably more difficult in 2016 as the Canadians travel overseas carrying a plethora of new faces. Here's a look at the roster (points totals in brackets):
| | |
| --- | --- |
| Goalies | Mackenzie Blackwood (16-7-0, 2.36 GAA, .932 SV%), Mason McDonald (7-10-2, 3.47 GAA, .893 SV%), Samuel Montembeault (7-10-4, 2.79 GAA, .886 SV%) |
| Defencemen | Travis Sanheim (31), Joe Hicketts (30), Roland McKeown (28), Travis Dermott (27), Haydn Fleury (20), Thomas Chabot (20), Brandon Hickey (7) |
| Forwards | Mitchell Marner (58), Dylan Strome (53), Travis Konecny (45), Brayden Point (43), Mathew Barzal (43), Anthony Beauvillier (41), Julien Gauthier (37), John Quenneville (33), Lawson Crouse (24), Brendan Perlini (22), Mitchell Stephens (11), Rourke Chartier (9), Jake Virtanen (4) |
Of the above names, only four are returning from last year's tournament: Hicketts, Point, Crouse and Virtanen, who was loaned to the team by the Vancouver Canucks. Some notables among those who didn't make the final cut are Michael Dal Colle (a 2014 top-five draft pick), Nick Merkley (a 2015 first round pick) and Jakob Chychrun (a 2016 draft-eligible prospect).
Despite not having any returning players at the position from last year's tournament, goaltending – long a sore spot for Canada at the junior level – was a position Dave Lowry and the coaching staff didn't have to worry all that much about. Blackwood has had a tremendous season for the Barrie Colts thus far and, barring unexpected circumstances, was going to be Canada's starter.
The unexpected came in the form a vicious, ill-advised slash in one of Blackwood's final games with the Colts before the Christmas break that earned him an eight game suspension, the final two of which would be served at the World Juniors. That thrust McDonald, the likely backup when the selection camp roster was created, into the starter's role for at least the first two games.
The first of those two games comes on Boxing Day against an American team that has to be the favourite to win Group A, carrying such players as Zach Werenski, Matthew Tkachuk, Auston Matthews and Alex DeBrincat. There remains a slight possibility McDonald could play his way into the starter's role, but more likely is Blackwood re-takes the role after his suspension.
Offensively, the team will rely heavily on Point – one of the WHL's standouts this season – as well as Marner and Strome who sit 3rd and 5th respectively in the OHL's scoring race. Undrafted 18-year-old Julien Gauthier, who has 29 goals to only eight assists, could also be leaned on heavily to help spark a forward group that could be hard pressed to score.
The combination of a relatively think offensive group, a lack of experience and the short-term loss of its starting goalie means Canada will be hard pressed to finish first in Group A, and may fall as low as third place with Sweden also fielding an impressive roster. Group B appears to be just as strong, so a quarter-final appearance may be the best-case scenario for Canada.
Here is Canada's complete preliminary round schedule (all games are at 1:00 ET):
Sat. Dec. 26 vs USA
Mon. Dec. 28 vs Denmark
Tues. Dec. 29 vs Switzerland
Thur. Dec. 31 vs Sweden