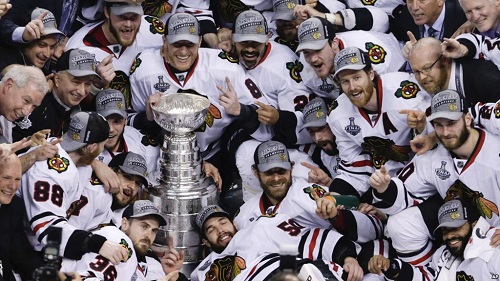 The Chicago Blackhawks' Summer of Stanley is coming to an end as the Hawks officially open the on-ice portion of training camp Thursday, September 12th at the University of Notre Dame. Starting training camp with five days of road trip conditions will give the team time for some early bonding, a good decision given that there will be new faces on the opening night roster.
Of course, the faces may not be that new. The defense corps of the 2013 Cup-winning team is returning, but with the departures of Viktor Stalberg, Michael Frolik, and most notably David Bolland, there are forward spots for the taking during camp. To find the most likely candidates for these positions, look no further than the Blackhawks' AHL affiliate, the Rockford Icehogs.
Bolland's spot at center needs to be filled quickly, given the Blackhawks' past 2C woes, lest anyone get it into their heads to repeat the failed experiment of Patrick Kane, second-line center. Brandon Pirri, last season's AHL scoring leader, has been projected by many (including GM Stan Bowman) to have a good shot at filling that position, but he could have competition from the Hawks' free-agent signing and reigning Hobey Baker winner Drew LeBlanc.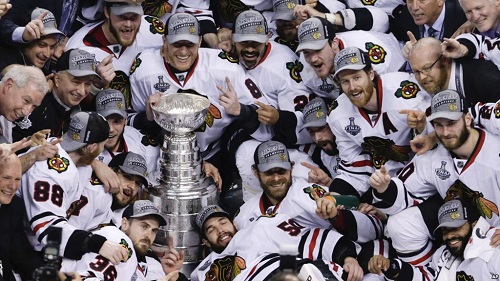 The other open spots could create an interesting battle during training camp. The Hawks will be looking for someone – new or current player – to step up and fill Frolik's very large shoes on the penalty kill, for one thing. Keep an eye on IceHogs forwards Ben Smith, Jimmy Hayes, and Jeremy Morin, all of whom will be looking to impress the Hawks' management and coaching staff to gain a spot on the opening night roster, as well as 2011 first-round picks Mark McNeill and Philip Danault, both of whom had impressive showings at the Blackhawks' development camp and the recent rookie tournament in London, Ontario.
2012 first round pick Teuvo Teravainen is expected to spend another year in Finland, but that doesn't mean he'll take it easy at camp. Teravainen will likely be one of the most-watched new players at camp for his dynamic style of play and raw talent. The majority of the other Blackhawks prospects invited to camp – Ryan Hartman, Alex Broadhurst, and Adam Clendening, to name a few – will either return to their junior teams or be sent down to Rockford, but their performance at camp will stick with Blackhawks management, and there are several in that group, Clendening included, that could potentially see NHL ice time during the season as injury call-ups.
This summer was shorter than usual for the Blackhawks, both because of the lockout-compressed season and because the playoffs stretched to the end of June. All eyes will be on the team for any signs of the dreaded "Cup hangover", but by all accounts, the Blackhawks aren't worried.
They're ready to get back to work.