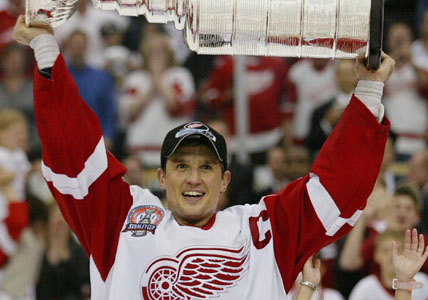 After 18 seasons in the NHL, Red Wings captain, Steve Yzerman was finally wearing down. Heading in to the 2001-2002 season, Yzerman knew that it was going to be a tough campaign. From training camp, Yzerman's knee was causing him a lot of pain and he knew that he was going to have to play through pain. Fortunately for him,the additions of Hall of Famers Brett Hull, Luc Robitaille, and Dominik Hasek meant that the scoring load wouldn't totally be on Yzerman's shoulders. Nonetheless, Yzerman, competed hard throughout the first half of the season, and even represented Canada in the 2002 Olympics, helping the Canadians win gold for the first time in 50 years. However, after the Olympics ended, an MRI was performed on Yzerman's knee and it showed that there was almost no cartilage left in the knee. Yzerman chose to sit the rest of the regular season in hopes that he could play in the playoffs. And in those playoffs, I saw what was probably the greatest display of leadership one could possibly imagine.
The 2002 Playoffs rolled around and the Red Wings were the heavy favorites. They won the President's Trophy, were the #1 seed in the West, and had a team that consisted of at least 10 Hall of Famers. Up first were the Vancouver Canucks. Surprisingly, the Canucks jumped all over the Wings, taking the first two games in Detroit. Many feared that the Wings were on their way out as Hasek was getting outplayed by Canucks netminder Dan Cloutier and the Wings stars were getting shut down. Yzerman was the only Wing that had showed up so far, scoring 2 goals and an assist in the first two games. Heading to Vancouver, Yzerman demonstrated his phenomenal leadership ability by impinging his indomitable will upon his teammates. He held a closed door meeting with the players, expressing what needed to happen. Everyone knew that Yzerman was essentially playing on one leg, and they were so inspired that they picked up their level of play. Wings forward Kirk Maltby said it best, saying, "When you see your captain out there sacrificing his body to block shots, taking hits, and on top of that scoring goals and creating goals, as a player and as a teammate you can't help but go out there and give it your all".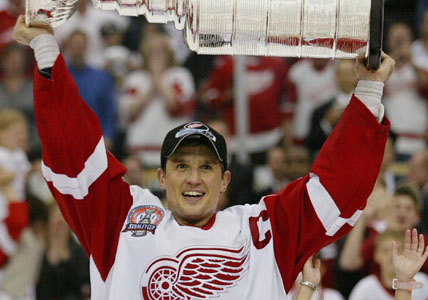 Yzerman continued to score for the Wings, tallying another 2 goals and 2 assists in Games 3 and 4, both Red Wings wins. I'll never forget his game winning goal in Game 4. He skated across the crease and as he was being tripped, slid the puck past goalie Dan Cloutier. When he went to stand up, you could see him grimace as he was putting all of his weight on his stick just to get up. But you never saw him quit. You never saw him complain. His 7 points through 4 games led all players in the series. What an example he set for his teammates and for all young hockey players. Commentator Bill Clement said it best about Steve Yzerman. Clement said, "There's one thing you can't defend against, and that's courage. Steve Yzerman just keeps laying it on the line every shift".
With the series heading back to Detroit at 2-2, the Wings had finally gotten the wake up call, and their captain had kept them in the series long enough for it to happen. The Wings went 14-5 the rest of the way, crushing their opponents. Every team tried to be physical with Yzerman. They tried to knock him down. But he just kept getting back up, en route to his 3rd Stanley Cup Championship in 6 years. Just 6 years ago, many in Detroit and around the NHL felt that Yzerman was not a strong enough leader to ever lead Detroit to a championship. 6 years later, he put on one of the greatest displays of leadership I've ever seen.
Some amazing facts from his season are listed below:
– Despite missing 30 games during the regular season with the knee pain, he still finished 6th in scoring on his team with 48 points in 52 games.
– Yzerman led the Wings in playoff scoring with 23 points and finished 2nd overall behind only the Avs' Peter Forsberg
– Yzerman still chipped in 2 goals and 4 assists in 6 tournament games, helping Canada win gold for the first time in 50 years
– Yzerman's knee injury was so severe that he missed the first 66 games of the 2002-2003 season.
We'll never forget Stevie Y and his heroic effort in the 2002 playoffs
The video below details just how severe that injury was and how his teammates rallied around his play
[youtube http://www.youtube.com/watch?v=ipkxwOQi_jo&w=420&h=315]