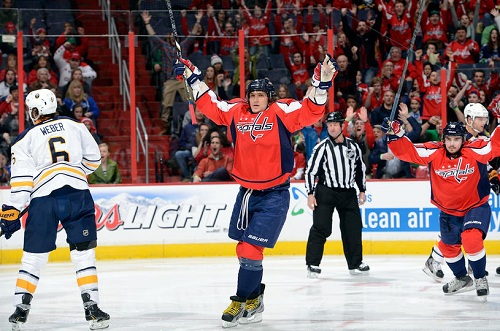 This past Sunday, I had the opportunity to watch my favorite team, the Buffalo Sabres play on the road in-person. They played the Washington Capitals this past St. Patrick's Day. I had only been to one other Sabres road game before (a 3-2 loss to the Pittsburgh Penguins) so I was hoping things would change. They did not.
I certainly did not have any trouble buying tickets (both teams are toward the bottom of the Eastern Conference) and paid $50 each. I sat in the last row of the upper level, which is kind of nice because you can see everything develop. In addition, there is not that loud, obnoxious, drunk person behind you screaming obscenities all game.
I had just gone done saying to someone that I was going to be cheering on my team greatly the entire game. In typical Buffalo fashion, they decided to give up a goal to Alexander Ovechkin within the first 19 seconds of the game. The Sabres have been notorious for giving up quick goals and it was not different in this game.
I must say that concessions were expensive here in D.C. A soft-serve ice cream cone was $6. $6! That is a lot of money for a little ice-cream. Beer was in the $8-$10 range. Burgers and fingers were $10-$11.50. I was fortunate enough to eat beforehand at a local establishment and it was way cheaper. By the way, there were lots of restaurants nearby the arena so there were plenty of options. The team store was a lot smaller than Buffalo's. I feel Buffalo must have one of the biggest team stores in the league with a lot of merchandise options.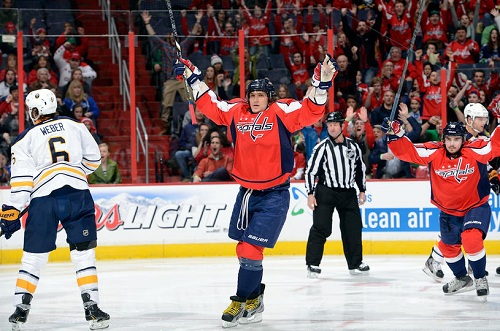 One of the biggest complaints I've had about attending Sabres home games this season is the arena is quiet, too quiet. Fans really don't get into it but that is probably because of the team's play. I must say that I was surprised at how vocal Caps fans were. They were some of the loudest fans that I had ever heard. There was a good contingent of Sabres fans in the arena and they would chant "Let's go Buffalo!" That was quickly drowned out by the thousands of Caps fans cheering.
I guess it does not matter if I attend a home or away game this season. In games I have gone to, the Sabres are 0-2. This is the same record that I have when attending Sabres away games as they would lose 5-3. They fired Lindy Ruff, perhaps it is time to fire GM Darcy Regier.