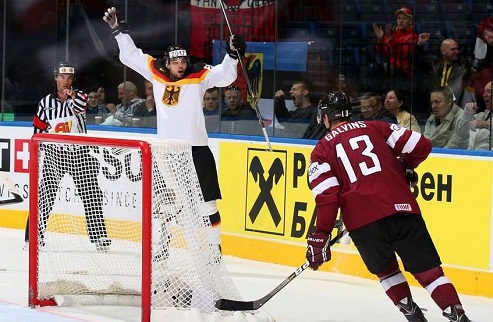 After sneaking by Kazakhstan in a shootout, Germany once again found itself on the winning end of a hard fought game between two teams. Latvia was coming off an upset over Finland in their opener and seeking to stay perfect in the preliminary round. However a costly penalty late in the third would prove to be the deciding factor to seal Latvia's fate.
The two teams came out exchanging goals both in the first and second. It stayed all knotted up at two a piece until in the 56th minute when Thomas Oppenheimer put Germany up 3-2 on a penalty shot. Oppenheimer once again became the hero for Germany as he too scored the crucial game-winning goal in shootout just 24 hours prior in the opening game against Kazakhstan.
With Germany's two victories, they have picked up five points of a possible six. Latvia however sits with only three points and will be back on the hunt as they set their eyes on qualifying for a playoff spot. Now three days into the 2014 World Championship with upsets occurring on each day in a variety of ways only stresses just how important each game will be moving forward for both teams in this tournament.