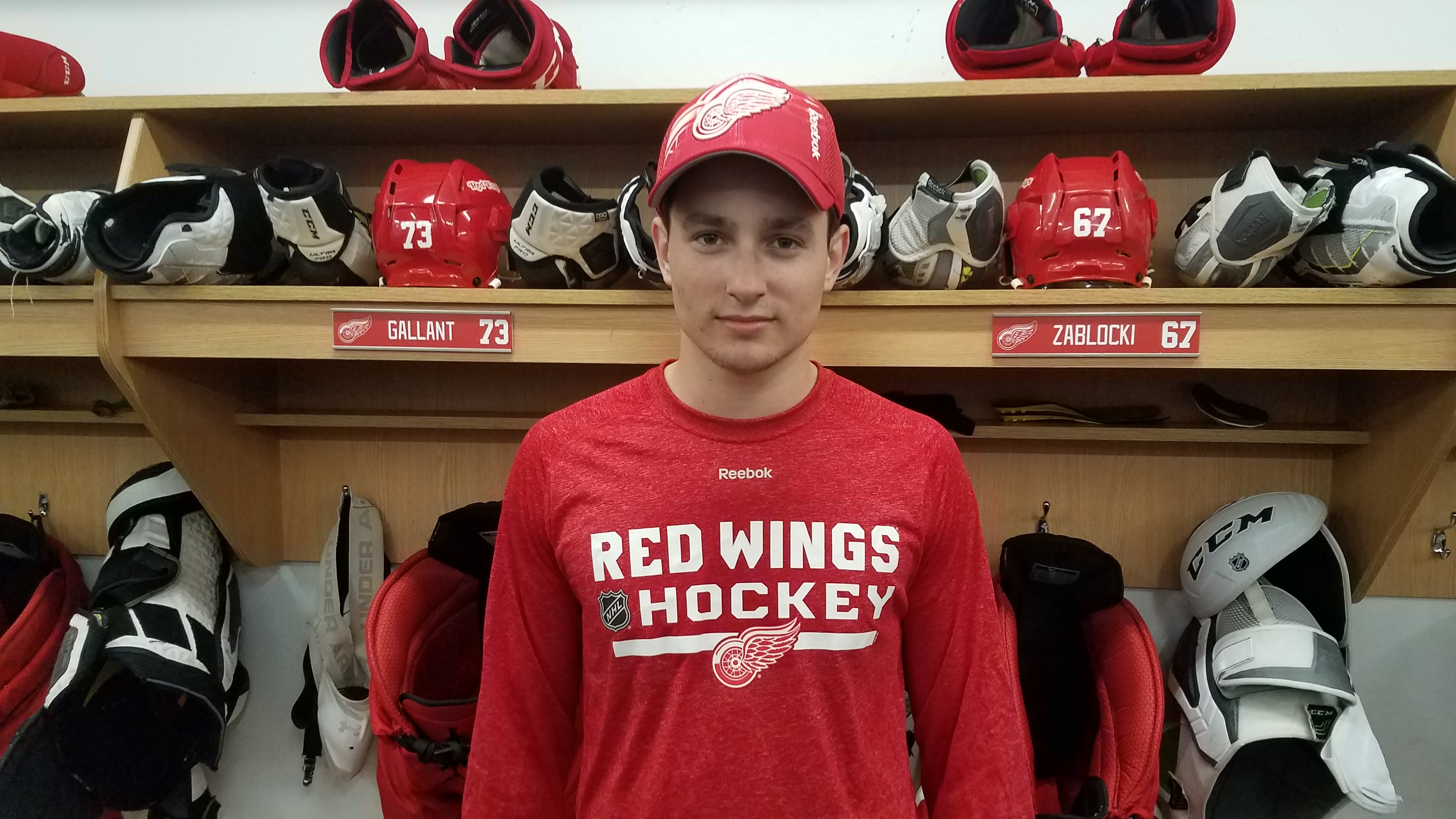 I spoke with Lane Zablocki, selected in the 3rd round (#79) of this year's NHL Draft, during Day 1 of Detroit's prospect development camp.
Born: Alberta, Canada
Last Season: Regina Pats & Red Deer Rebels (WHL)
Height/Weight: 6-0 / 185 lbs (eliteprospects.com)
This interview took place on July 7, 2017.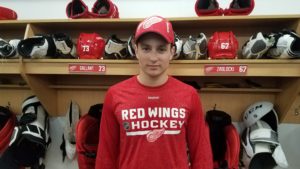 Describe your thoughts being drafted by Detroit.
It's unbelievable, getting drafted to an organization like the Red Wings, with all their history and tradition. They draft players not to play in the NHL for one or two years, but they draft them and develop them to play long, successful careers. I think that's huge.
What was your season like last year? What was your role?
I started off in Regina and I didn't think I had the best start I could have. It was going up and I started playing well again and I got traded to Red Deer. I kind of got a fresh start, new coach, new team, everything. And I think it went really well. I really got lots of opportunities. I played a more important role, I guess. And I really matured as a player, so I think that was huge for me.
If you had to compare yourself to an NHL player, who would that be?
Probably Andrew Shaw or Brad Marchand. You know, they're both pests out there, and get under people's skin, and play physical. Yeah, those are the kinds of things I like to do.
Who was someone that you looked up to or that inspired you?
I've always been inspired, not necessarily by a player, but by my brother. He's older than me and he always pushed me. I always wanted to be better than him, even though he was three years older than me. In the gym, on the ice, those kinds of things; he always pushed me to be the best I could.
What are some of the biggest strengths in your game?
I think my physicality, and my ability to get under people's skin. It's not very common in today's game. Not many players can play that way, so I think that's a big thing for me.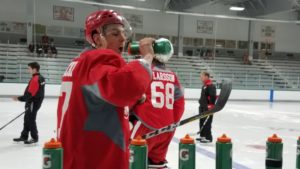 And the other side, what are some of your weaknesses that you think you need to improve upon?
I need to improve on my overall strength, which I have been doing. Since the end of last season, I dropped 5% in body fat and 15 pounds. So I think conditioning was one of the biggest things for me, and overall strength, alongside of the little things in the game, like my play away from the puck and my board work, one-on-one battles, and those things.
What were your impressions of Traverse City and the [development] camp?
It's great. It's a great setup here. The first session, I haven't skated a whole lot, but it was nice to get the first one out of the way, and I'm looking forward to the rest of the week.
Were there any nerves coming in?
No, not at all. Coming in, I wasn't too nervous. Actually, I was quite surprised that I settled in here pretty quick. I saw a couple familiar faces, so that always makes it easier coming in. I know I'm valued here, and I'm very excited.
What do you hope to take away from this camp? What's going to help your development?
Just, the life skills. There's cooking classes. There's classes on sleep and your heart rate, and stuff like that, which is essential in your development. And just the pace out here, you know, playing with some guys that have played in the AHL, and some other high-end prospects. It's really going to show me what it takes to play in the NHL, along with those exit meetings, where they're going to tell me what I need to improve on and work on throughout the season. So, I'm looking forward to that.
Lastly, what do you hope to accomplish next season? What are your goals?
I haven't really set any goals yet. I don't really want to change the player that I am. I just want to improve the little things on my game that will make me a better overall player.
Check out the other prospect interviews:
Follow me on Twitter @KevinSporkaHOHM