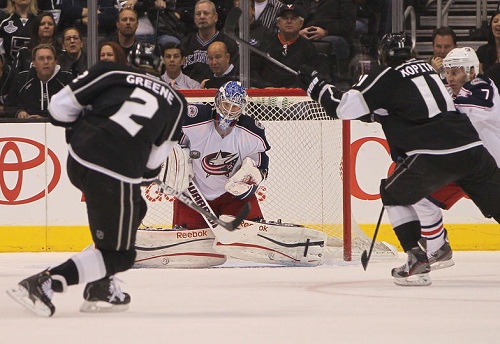 In the season opener against the Chicago Blackhawks, the Kings lost defenseman Matt Greene when his back was hurt badly enough that it required surgery. His injury, coupled with the missing Willie Mitchell, has had the Kings seeking ways to find the right fit, defensively.
But that all changed on Thursday when the LA Kings announced that Greene had been activated, and he was placed on the active roster for the game that night against the Columbus Blue Jackets. His presence added energy, and the home crowd went crazy over seeing a Kings jersey with the #2 on the ice. A first-period goal by Drew Doughty was tied by the Blue Jackets Dalton Prout, who scored his first NHL goal during the second period that night. Unfortunately for Prout, his celebration was cut short by Kyle Clifford, who has been in a scoring slump since his early season success. Clifford quickly added another point to the board with what would be the game winner. It was the Kings fourth win at home in a row.
With only a handful of games left in the regular season, the Kings haven't officially clinched a playoff spot and are fighting for home-ice advantage. Home-ice advantage means less traveling, especially with most other Western Conference teams several states away, and less traveling means more rest. They will be coming up against three teams that will be fighting desperately to clinch their own playoff spots, the Stars, the Wild, and the Red Wings. Their final regular season game will be against one of their California rivals, the Sharks, who the Kings fell to in a shootout on Tuesday.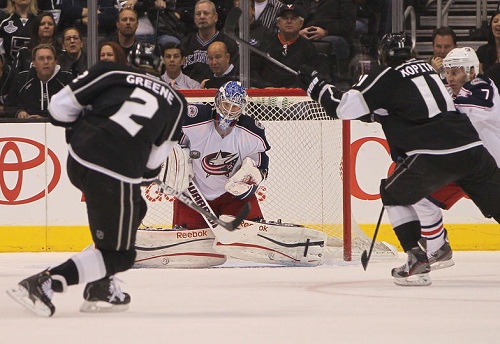 Points still count. As Kings goaltender Jonathan Quick said after Thursday night's 2-1 win, "We haven't got in the playoffs yet, so we've got to keep playing like this." There is no time to rest, and Greene will have a total of only five games to prepare himself for the postseason.
The Kings also sent rookie Tyler Toffoli back to the AHL Manchester Monarchs. Toffoli, the AHL Rookie of the Year, won't be taking over for a struggling Dustin Penner just yet, but he is already aiding his New Hampshire team in their quest for a position in the Calder Cup Playoffs.
The Kings are going to have to show some extra grittiness during the final week of the regular season. Having Greene back in the ranks should hopefully improve the penalty kill that they were so well known for last year. Their next game is tomorrow night against the Stars, a team that has challenged the Kings in every way this season.The Kings want those two points, and they will have to be relentless to get them.
Whatever happens, this is sure to be an exciting week for NHL lovers.