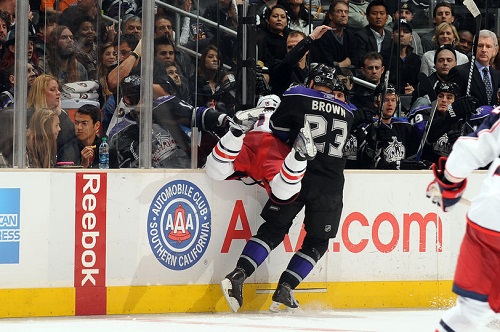 Good kings aren't born knowing how to lead. Good kings are cultivated and trained and brought up with compassion and are taught wisdom. The Los Angeles Kings have earned the name bestowed upon them.
Here are just some qualities of a good King:
1. Kings Have Heart
"But the Lord said to Samuel, "Do not look at his appearance or at the height of his stature, because I have rejected him; for God sees not as man sees, for man looks at the outward appearance, but the Lord looks at the heart." -1 Samuel 16:7
No, this isn't a Bible lesson. But this is how Israel's second king was chosen. Her first king, Saul, had some impressive physical qualities, but he failed at being a king. That's when David was chosen. He was handsome and strong, too, but at the core, he had heart that Saul was missing.
A good king puts his heart into his monarchy. When he fails, he can't give up because quitting isn't an option. He has others depending on him, and even when they're disappointed in him, the king has to shake it off and get back in the game.
It's a lesson that every goalie has learned, and one to which Jonathan Quick can surely attest. He had a tough 2013 season, letting in multiple soft goals and five-holers, and he even found himself getting pulled in favor of his backup, Jonathan Bernier. Yet, with all of his setbacks, he played with his heart and soul, getting his team to the Western Conference Finals. Sadly for him, it wasn't enough to defend their throne, but, hey, there's always next year.
2. Kings Lead Their People (Especially Into Battle)
A good king doesn't sit on his throne in the comfort of his castle, stuffing his face and visiting with his concubines while sending his army off to fight his battles for him. Any king worth a heroic mention (such as Aragorn in Lord of the Rings) is always on the front lines.
Dustin Brown is the king of the Kings. He has no royal scepter, but he hits hard. A good king rides out first into battle, and Brown will race toward the enemy, shoulder first to engage in physical combat so that he can battle his way down the ice with the puck. He sets the standard and diffuses confidence to the rest of his team.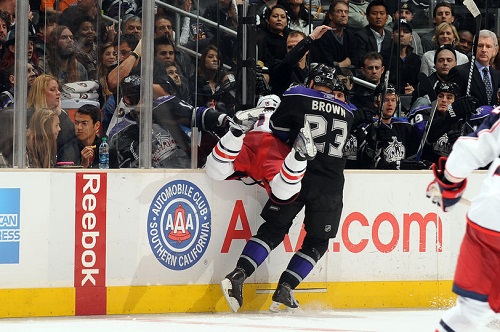 3. Kings Rely Upon the Loyalty of Others
Good kings are fiercely loyal to their subjects, which naturally results in a mutual respect. Brown, Quick, Drew Doughty, and Anze Kopitar are a few of the names that come to mind when one thinks about the Kings. They are all players who started their NHL careers in Los Angeles and are set to be with the team long term. Kyle Clifford just signed on for two more years with the team that he loves. Everyone's in it for the ultimate prize, but chocolate milk from the Stanley Cup tastes so much better when you drink it with friends.
http://www.youtube.com/watch?feature=player_detailpage&v=ke6Wqtp3ktI
4. Kings Have Wise Counsel
The coaching staff and the management of any successful team should never be overlooked. The Kings wouldn't be what they have become over the last few years without the men that stand beside them off of the ice. Coach Darryl Sutter makes the difficult and sometimes controversial decisions that have to be made. The aforementioned pulling of Quick mid-game last season is one such decision. GM Dean Lombardi has spent all summer working out cap space and how to keep all the players that wouldn't be happy playing anywhere else. Good kings are nothing without wise and capable decision makers. And interviews wouldn't be nearly as entertaining without Sutter.
5. A Kings Knows He Needs His Troops
"When you pull on that jersey, you represent yourself and your teammates. And the name on the front is a hell of a lot more important than the one on the back!"
– Herb Brooks, Miracle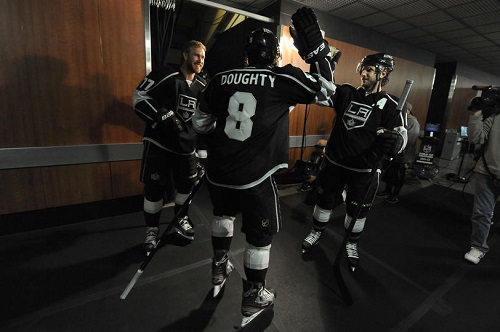 The Kings aren't made up of superstars. Sure, there are a handful of names that stand out above the rest, but ultimately, this team is made up of a bunch of guys whose strength lies in their ability to act as one cohesive unit. No leader can stand alone. He is nothing without his army. When the other team goes after a King, they better watch out for guys like Mike Richards and Jordan Nolan. The Kings encourage each other, challenge each other, and they have each other's backs. You can't mess with one without messing with them all.
The Kings play boldly with honesty and integrity. They may lose a battle or a war, but they are never fully defeated. They'll lick their wounds and come back to play, and they'll do it with the hearts of Kings because that is what they are.