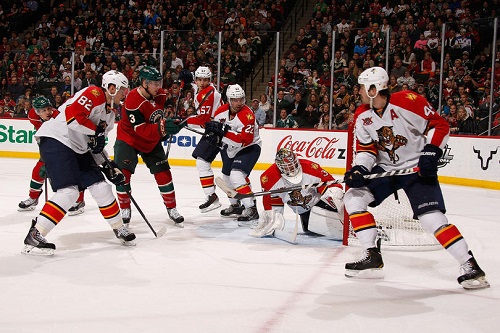 It's Saturday. I managed three hours of sleep last night. I'm sick for the third time in three months. I lost my voice. And yet, I got up and went to crew practice at 6:00 AM. Upon re-arrival to civilization, I hunkered down, crushing out the biggest nap since Sleeping Beauty hit the sack. Managing to wake up four hours later (thank God for small favors), I wasn't particularly sure of my whereabouts; but in my sleep-induced stupor, I realized something- I says to myself "Self, you didn't watch the Florida Panthers game last night! SHAME. ON. YOU."
Ten points from Gryffindor.
Appalled by my self-perceived lack of dedication and effort, I remained prone for at least another half-hour, killing time before proceeding to scramble (more like stumble) out of my dorm bed. Reaching my phone, I went through your typical 18-year old's mental checklist of things to do:
Check texts.
Check Facebook.
Kill time.
Check Facebook.
Lather.
Rinse.
Repeat.
But, I digress. Following a few more turns of this vicious circle, I arrived at my destination-navigating the NHL Gamecenter app, I found yesterday's tilt against the Minnesota Wild, clicked on the (condensed) rebroadcast, and watched me some hockey.
To make a long story short, the Cats lost, 3-2, to the Wild, in spite of a furious two-goal third period comeback that saw Tomas Kopecky score his first goal since the invention of the wheel. Firing home for the Wild were Zach Parise and Jason Pominville, both of whom notched their markers within 14 minutes of the first period. Undone by a poor start, the Panthers stepped up their play as time progressed, out-shooting the Wild nine to five in the second frame. While they didn't dent Josh Harding's net, the momentum gained carried over into the third, where Kopecky and young gun Jonathan Huberdeau beat the Minnesota netminder. But all for naught-within minutes of finding the tying tally, the Panthers conceded one of their own, allowing big-bodied forward Charlie Coyle to post-up in front of the net, where he would tap home a Mikko Koivu feed past Panthers goalie Tim Thomas.
The Panthers have dropped their tenth game out of their last eleven played. In other news, the sun came up this morning, the sky is blue and water is wet.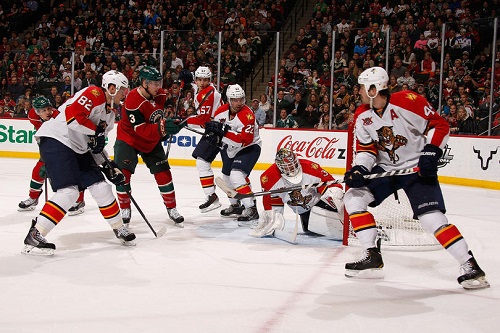 Something, however, piqued my attention in spite of the losing effort- receiving a pass at around 16:50 of the second, Wild forward Dany Heatley flew through the neutral zone, building up speed from the red line in an effort to burst into the Panther defensive zone. Standing in his way? Defenseman Mike Weaver and one Erik Gudbranson, the latter of which absolutely decked the former All-Star as he let loose a shot.
Where I'm from, there's typically only one response to something like this- ¡Ñooooooooooo! (Those not familiar with Cuban lingo, refer to this handy-dandy translation guide)
On a nice side-note, the game marked Panthers forward Nick Bjugstad's homecoming to his home state, where he won the Mr. Hockey award as Minnesota's top high school hockey player back in 2009-10. The mammoth forward also notched an assist, his fourth point in five games, undoubtedly pleasing the 70 or so friends and family in attendance at the Xcel Energy Center. Furthermore, newly acquired Panther Jimmy Hayes was a healthy scratch, joining Scott Gomez and Matt Gilroy in the pressbox.