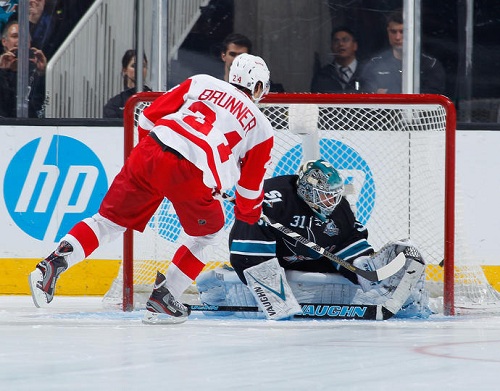 It was perfect hockey weather in the bay area leading up to a showdown between the Detroit Red Wings and the San Jose Sharks. If you live in Northern California, 70 degrees in the middle of winter is hockey weather. Enough of that, let's talk about the game.
When Detroit comes to town, everybody expects a good game, and tonight was no exception. The first period was a fast-paced one with bodies flying everywhere and shots coming close to hitting the back of the net, but goaltending was a huge part in tonight's game. Sharks netminder Antti Niemi and Red Wings goalie Jonas Gustavsson played exceptionally well. The second period was very similar to the first, and now that it was still a tie game, people were wondering how long this game could actually go.
To the third period we go, and finally the goal light starts to flash. Logan Couture shot an absolute rocket past Gustavsson 4:49 into the period. Credit should be given to Gustavsson because he got a glove on it, but the shot was just too powerful. Then just 1:32 later, Patrick Eaves deflected a point shot with his shin past Niemi for the tying tally. With about 30 seconds left in the tie game, the Sharks were starting to scramble, and almost got one past Gustavsson, but the goalie held his ground and did not let the puck in. To overtime we go…again.
Overtime was your standard period. Lots of room on the ice and a lot of good chances, but there was one specific play that made everybody sitting in HP Pavilion jump. Sharks defenceman Douglas Murray put his hand up to play a puck right near Niemi, and missed the catch. When he missed, the puck hit his skate and nearly trickled into the goal past Niemi. Luckily Niemi was paying attention and was able to stop the puck. Overtime peacefully ends, and for the sixth time in the last seven home games, there would be a shootout in San Jose. Detroit would win the shootout 1-0 on a slick Damien Brunner goal.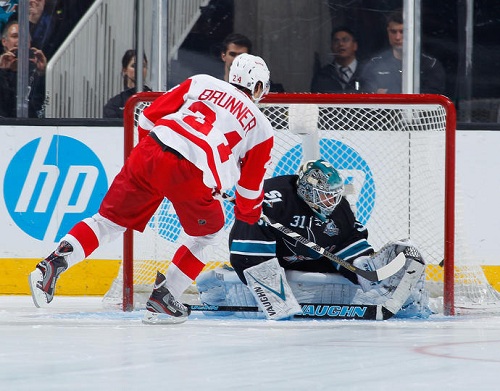 The Sharks will take on the Nashville Predators this Saturday in San Jose. Hopefully March treats the Sharks a little better than February.
GAME NOTES: Patrick Marleau continues to sit on goal number 399. The Sharks finished February with a 2-6-4 record. Joe Thornton is on a five-game point streak. Ryane Clowe returned from his suspension to play this game.