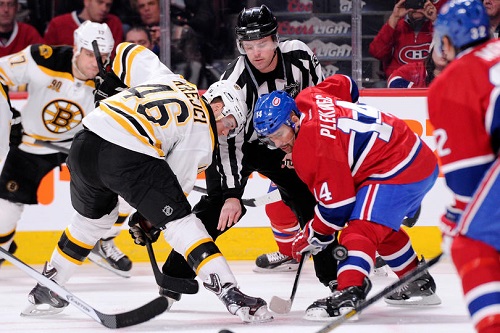 The Montreal Canadiens beat the Boston Bruins in more than one way Thursday night. On the ice, the Habs won 2-1. Off the ice, Montreal jumped over the Bruins to first place in the Atlantic Division. Tomas Plekanec and Max Pacioretty's goals in the second period were all it took, leaving Carey Price to carry the team the rest of the way. He made 32 saves, including 16 in the third.
"This is a huge win for us as a group," said defenceman PK Subban. "You have to expect to win, if you expect to lose you're a loser."
In the 719th regular season meeting between these two historic rivals, the Bruins were the team that got off to the hot start. They outshot the Habs 10-3 and scored their goal in the first, while pushing the Habs around.
Gregory Campbell got the goal, after getting fed a saucer pass from Milan Lucic on a two-on-one. His shot went high blocker, out of reach for Price and marking the second goal of the season for Campbell.
The Bruins did get a scare in the first though, when defenceman Johnny Boychuck went down awkwardly from a hit and had to be taken off on a stretcher. This video from Some Hockey Videos shows Boychuck's legs go awkwardly into the boards.
Pacioretty was given a two-minute penalty for boarding. Renaud Lavoie from RDS reported Boston head coach Claude Julian had this to say on the hit after the game.
Claude Julien said that Max Pacioretty did not deserve more than 2 minutes on the Johnny Boychuk hit. #bruins

— Renaud Lavoie (@LavoieRenaud) December 6, 2013
Lavoie also reported that Boychuck had been released from hospital.
Johhny Boychuk will travel with the team tonight. #bruins

— Renaud Lavoie (@LavoieRenaud) December 6, 2013
Montreal came out flying in the second period, and eventually tied the game on a goal from Plekanec. Plekanec picked up a cross-ice pass from Josh Gorges and fired the puck over Tuukka Rask's catching glove.
Late in the period, Brendan Gallagher charged the goal creating chaos. The puck came loose and Pacioretty fired his team leading 11th goal past Rask. Montreal finished the period with 17 shots, and leading for the game 20-17.
The third period played out much like the first, with Boston throwing everything at Price. But he stood tall and secured the win under the serenade of Carey cheers from the sold out crowd.
After playing three in four, the Habs don't get much rest. They are back in action Saturday when the Buffalo Sabres are in town.