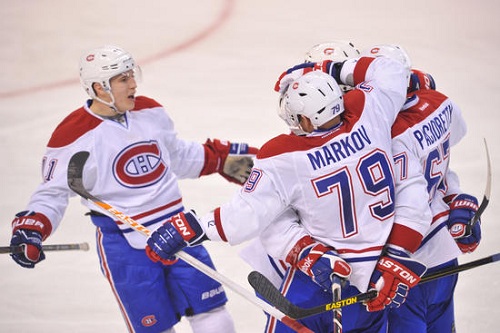 The way the Montreal Canadiens played this weekend should silence all their critics. The Habs lost a battle on Saturday, 7-6 in overtime to the Pittsburgh Penguins, but bounced back and beat the Boston Bruins 4-3 to land atop the Eastern Conference. These were two huge games for the Habs and they met the challenge head on, resulting in two exciting games and three important points.
When the Canadiens welcomed Sidney Crosby and the Penguins to the Bell Centre on Saturday, no one expected the scoreboard to get such a work out. In what turned out to be the highest scoring game of the season, the Pens and Habs traded goals all night, lighting up Tomas Vokoun and Carey Price.
"That kind of game is great for the fans, but it's what gives coaches gray hair," said head coach Michel Therrien. "But we managed to find a way to get a point."
The game started off slow, with only one goal for each team. But in the second period things got really exciting, when there was six goals scored, including one by PK Subban with less than a second to go in the period. But it was still tied for most of the third, with neither team holding one goal leads.
Eventually someone has to win and Brandon Sutter's second goal of the game, on a wrist shot over Price's glove, was all it took.
It was a pretty balanced game with no one player scoring more than two points, but six players meeting that number. This includes two goals from captain Brian Gionta, the only player to score more than one goal for Montreal.
"The best thing I can say about this game is that we came back and got a point," Therrien said.
But Montreal did not linger on this loss for long. Less than 24 hours later, they were in Boston to take on one of their biggest rivals and to claim first place. Both teams entered the game with 30 points, but Montreal sat in fourth place because of Boston has three games in hand.
"Today was day and night compared to last game," said goalie Peter Budaj, who got the start against Boston and made 31 saves for the win.
Like any clash between these rivals, the game was fast and hard. This included two big fights in the second period; one between Habs forward Brandon Prust and the Bruins Milan Lucic, the other between Alexei Emelin and big Zdeno Chara.
"What Brandon Prust did for this hockey team, I'll call that great leadership," Therrien said. "I was going to make sure that players knew between the second and third that we have to respond as a team, and I thought we responded the right way."
David Desharnais scored two goals to lead the way for the Habs. Max Pacioretty and Tomas Plekanec also scored. Desharnais second goal, off a mad scramble in front of Tukka Rask, broke the 3-3 tie early in the third.
"It just bounced on my stick there. And it was a lucky one," Desharnais said.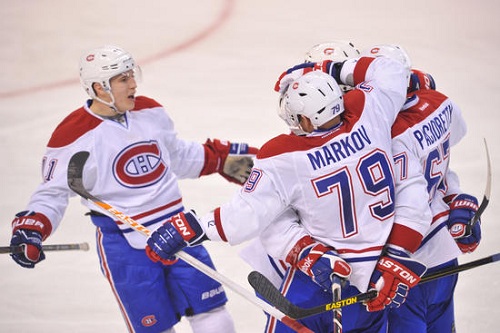 Montreal has still not lost a game in regulation since an ugly loss to the Toronto Maple Leafs on Feb. 9. When asked about his team's 8-0-3 run, coach Therrien praised his team's resiliency.
"We believe that if we stick to our plan we have a chance to win every game. That's the way we approach the game," Therrien said. "Like tonight, we had a great start in the first period and guys are confident. They know that if we stick to our plan, we have the chance to win."
With three important points snatched from the grasps of their rivals, Montreal continues their road trip this week, with games against the New York Islanders, Carolina Hurricanes, Tampa Bay Lightning and Florida Panthers all coming up.
Quotes from CBC.ca and NHL.com.
Love Reading About Hockey?

Subscribe to keep up-to-date with the latest and most interesting hockey news!
| | |
| --- | --- |
| | We hate spam just as much as you |