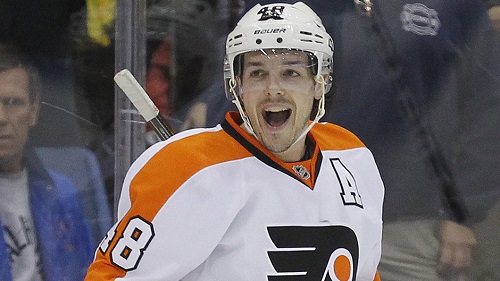 Friday really was Free Agent Frenzy, but the Montreal Canadiens made their most significant move Thursday when they signed Danny Briere to a two-year, $8 million contract. At 35, the tiny forward was bought out by the Philadelphia Flyers and is now returning to his home province of Quebec.
"To be able to come home and have my family and friends close by, that was a big factor in my decision," Briere said in a conference call. "Deep down, I've always wanted to play for the Canadiens. This is a huge honor for me."
Briere has been a dominate player throughout his career. In 847 games, he has 286 goals and 373 assists. But his production has slowed down quite a bit lately, with only six goals and 10 assists in 34 games last year. In the conference call, Briere admitted to his poor play and wants to be better.
"Last season I definitely wasn't happy with the way things went," he said. "[I] will do everything in my power [to turn things around]."
Growing up in Quebec, Briere has always wanted to play for the historic Canadiens.
"Deep down, I've always been a kid from Quebec who wanted to play for the Canadiens," Briere said. "I'm lucky to be able to have a second chance like this to be able to [sign with] Montreal."
Being a Habs fan, Briere is well aware how hostile it can be to be a Montreal player. Especially after Briere chose the Flyers over the Habs the last time he was a free agent in 2007. But at the same time, he isn't worried about the pressure.
"For me, Montreal Canadiens fans are probably the most passionate fans in the NHL," Briere said. "It's an honor to be playing for them and in front of them and all I'm hoping is we'll all be cheering in the same direction when the season starts. We'll be pushing along together to rack up some wins."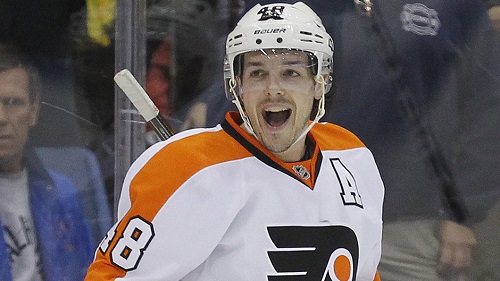 And at 35, this could be Briere's last opportunity to play for Montreal. So he felt he had to take it.
"The more I thought about it and the more I talked about it, the more excited I got about it. It was an emotional decision. It's the Montreal Canadiens," he said. "I realized this was my last chance to be able to play for the Canadiens and I seized that opportunity."
"I'm looking forward to getting the season started as soon as possible."
The one thing that worries fans about Briere is his size. At only 5'10, he isn't the smallest guy on the team which shows how small they really are.
But to fix that size, the team pulled off a small trade with the Florida Panthers, sending Philippe Lefebvre and a 7th round pick in 2014 south for tough-guy George Parros. At 6'5, Parros is a heavy-weight guy (over 1,000 penalty minutes) who won't contribute offensively but also won't back down to a fight.
As of late Friday afternoon, these are the only two players Montreal has added. With three months before the season starts, they could add some small pieces but for now the Canadiens appear confident in their roster and don't want to give up much.
"When you go into the free agent market, there's a price to pay," GM Marc Bergevin said Friday afternoon. "You don't build your nucleus through free agency."
That quote says all you can expect from Montreal this summer. But if anything does happen, HOHM will have it covered.