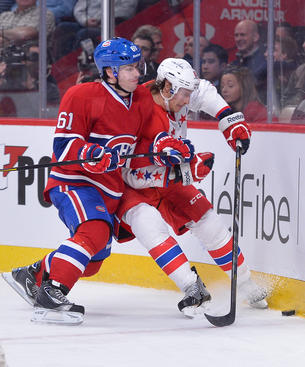 The Montreal Canadiens continue to their limp towards the playoffs Saturday night with a 5-1 loss to the Washington Capitals. Coming into this game, the Habs lost three of their four games by a combined score of 21-10 and the loss to the Caps continued the trend. Max Pacioretty picked up the Habs goal late in the game but that was after Alex Ovechkin and Troy Brouwer had two goals each and Nicklas Backstrom had one. Carey Price continued his struggles, giving up all five goals on 25 shots.
The Habs had one bright story line come from this game; Raphael Diaz returned to the lineup after missing 25 games with a concussion. Montreal was hopping his offence from the back end (13 points this year) would spark them back to the win column, but that wasn't the case Saturday.
" The guys are really helping me and everyone knows what we need to do better," Diaz said. "Defensively we have to be harder to play against [but] there is time to fix it and we will fix it."
Defenceman Josh Gorges was very critical of the team's play this week.
"I don't think we played that much better," he said. "We had great goaltending and they missed a lot of chances."
"We need to get back to the fundamentals of playing good hockey."
Head Coach Michel Therrien was very disappointed with the result and with his team's recent play.
"I'm disappointed about every aspect of our game, five-on-five, powerplay and penalty killing. We need to be better at a lot of things," he said. "We had a good feeling before the game but we didn't have good execution."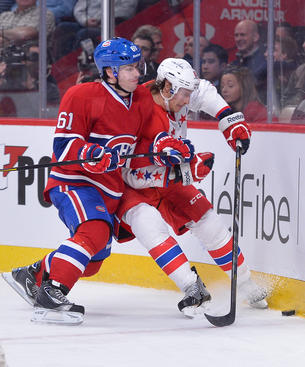 Saturday also marked the last home game of the season for Montreal. Gorges felt that they let their fans down with their performance.
"To go out there at the end and have to meet people that are great fans that support us every game. And to shake their hands after a disappointing game like that," he said "They don't deserve that."
"I think the fact that we can be just with ourselves for the last week, as a group building so that come the first game of the playoffs we are at the top of our game," Gorges said.
Price agreed.
"I think it's good for us to get out and sort things out," the goaltender said. "We can't be worried at this point. We have to get focused and ready to play because we have bigger games ahead."
Therrien is going to do everything he can to get the team back on track.
"My focus as a coach is to make sure that we need to practice to make us ready for the playoffs and that's my responsibility."
The Habs final three games see them visiting the New Jersey Devils, Winnipeg Jets and Toronto Maple Leafs Tuesday, Thursday and Saturday. The team is hopping this road trip will help them recover from their recent struggles.