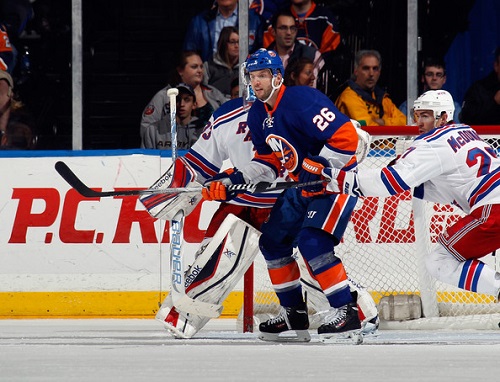 The Montreal Canadiens got some much needed size and scoring on deadline day when they acquired Thomas Vanek from the New York Islanders. The Habs sent a conditional-second round pick and prospect forward Sebastian Collberg to the Islanders and received a conditional 5th with Vanek. The condition on both picks is the Habs making the playoffs, if they don't neither pick will be traded.
"I'm excited," Vanek told TSN's James Duthie. "I played a lot there with Buffalo, it's an electric city with great fans so I'm excited to join them."
The trade was announced right at the 3:00 deadline and for a while it looked like Vanek wasn't going to go anywhere. It is unclear how long the trade negotiation was but it is a safe assumption Montreal was not the only team asking about Vanek. And like most players these days, Vanek says he learned about the trade watching TSN.
Duthie asked anek if he had any teams in mind when he knew he could be traded.
"I didn't really have a radar," He replied. "You try to stay away from Twitter until you own from your own GM or the opposite GM."
With 53 points, Vanek has an 11 point lead on the Habs scoring race. His 21 goals and 187 shots will bring some much needed offence to a team in the bottom third in the league in scoring.
But Vanek also brings some much needed size and strength. At 6'0 and 217, Vanek will be one of the bigger forwards on the team. Between him and Max Pacioretty on the wings, they now have two big power forwards who can score. For the rest of the season anyways, Montreal has a solid group of forwards that can score.
Vanek originally told the Islanders that he plans to test free agency and while he still sees set on that. But when asked by Duthie, Vanek said anything can happen, including resigning with Montreal."
"I'm not sure. My mine is just racing," He said. "I just got done talking to my wife and letting her know but you can never say never."
Habs fans seemed pretty excited about the trade on Twitter.
Screw it. I'm enjoying these 2 months with Vanek as a Hab. Hope he re-signs but they didn't give up a ton if he doesn't.

— Mike Obrand (@MikeObrand) March 5, 2014
After hearing that @CanadiensMTL got Vanek pic.twitter.com/lxo33ke3RG

— Krillin (@Tetrisdom) March 5, 2014
aaaaand Pacioretty/Subban aren't the point leaders on the habs anymore… Cant wait to see Vanek play in MTL.

— Alex Frechette (@FrenchBoyQ) March 5, 2014
Montreal made two other small trades before the deadline. Earlier on Wednesday, the team acquired goaltender Devan Dubnyk from the Nashville Predators for future considerations. Dubnyk was assigned to the Hamilton Bulldogs of the AHL. On Tuesday, they picked up defenceman Mike Weaver from the Florida Panthers for a fifth round pick. Weaver is a defensive first player who blocks shots and doesn't put up a lot of points.