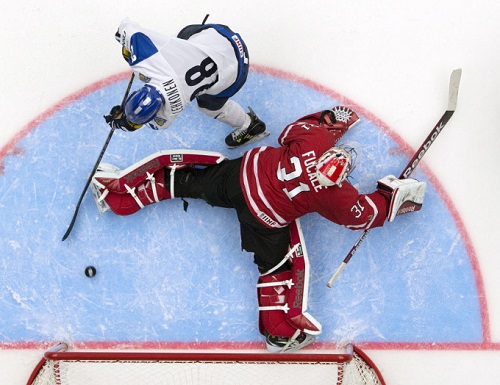 The Montreal Canadiens have a bright future if the play of their prospects at the 2014 World Junior tournament isn't a fluke. The Habs had six players playing in the tournament, with three picking up medals and all playing key roles for their teams. So just who are these players? Read on to find out.
Martin Reway was the Habs's fourth round pick (116th overall) in 2013 and at the time Montreal head scout Trevor Timmins said he was "a home run swing" but if his play at the World Juniors is any indication, he might pan out yet. In five games, Reway had four goals and six assists for Slovakia and was counted on in big games for them against Canada and the USA. His best game was against the Americans, with two of Slovakia's three goals in their 6-3 loss. He also had six shots on goal. Although his small size means he doesn't get a lot of defensive ice time, his offence numbers in this tournament are a welcome surprise from Reway.
Charles Hudon was Montreal's fifth round pick (122nd overall) in 2012. The 19-year-old forward made Team Canada last year but didn't play after suffering a back injury in camp before the tournament. He played for Canada this year and played on the top line with Jonathan Drouin and Anthony Mantha. He only scored a goal and an assist but his goal was a big one. It tied the game against the Czech Republic and forced overtime before Canada lost in a shootout. Otherwise, he was quiet which was expected. His style has always been more defensive anyways.
Zachary Fucale was one of the three players Montreal took in the second round (36th overall) in 2013. The Halifax Mooseheads goalie started on the bench for Team Canada but came in for their third game against Slovakia and took over from there. He was the player of the game for Canada in their 3-2 win over the USA, which was capped by this highlight reel save late in the game. He had a rough game against Finland in the semi-finals and he probably would like the game winning goal in the bronze medal game back, but it is safe to say Fucale was not the reason Canada didn't medal this year.
Jacob de la Rose was another second round pick (34th overall) in 2013 and was a very important player for the silver medal Sweden all tournament. His most memorable moment probably came when he scored the game winning goal late in the third to give Sweden a 4-3 against Russia in the round robin. He played on the top line with NHLer's Filip Forsberg (Nashville Predators) and Elias Lindholm (Carolina Hurricanes) so he was playing in all situations. He didn't register points in the semi-final or gold medal game but is one of the rare Swedish players eligible to play next year, where he will be an even more important player.
Sebastian Collberg was the Habs's second round pick (33rd overall) in 2012 and won the silver medal with Sweden. He started the tournament with the flu but did score a goal and assist against Norway. He finished the tournament with one goal and five assists, including an assist on the game tying goal in the gold medal game. He was expected to be a more offensive presence and could still find his footing in the coming years.
Artturi Lehkonen was another second round pick (55th overall) for Montreal in 2013 and won the gold medal with Finland. He suffered an injury and missed two games in the round robin but came back in time for the playoffs. Lehkonen scored the game winning goal for Finland in their 5-1 win over Canada in the semi-finals and played an important defensive role when Finland was defending their lead late in the game. He finished the tournament with two goals and two assists, but a +7 ratting, including being on the ice for all three goals in the gold medal game. He is small like de la Rose but has strong upside and some new, winning experience.