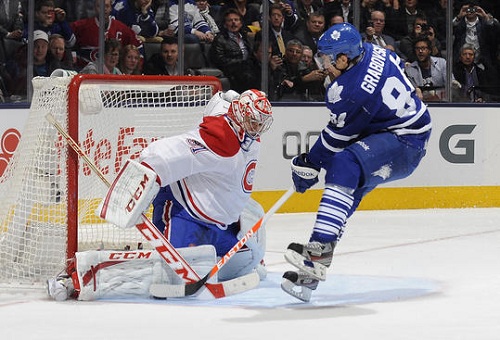 The Montreal Canadiens continued their dominating play Wednesday night with a 5-2 win over the Toronto Maple Leafs. Since the Leafs crushed Montreal 6-0 on Feb. 9, the Habs have been on fire, going 6-0-2. And it showed in this game, where Toronto was constantly out-skated and out-passed.
Max Pacioretty scored twice, with Alexei Emelin, Brendan Gallagher and Brian Gionta adding singles. Carey Price made 23 saves to get his 11th win and to build on the Habs position atop the Eastern Conference.
"Anytime you lose twice to a team you want to bounce back," Gallagher said. "You don't like losing to anyone but when it's the Montreal, Toronto rivalry, there is a lot of emotions involved."
Even with Montreal skating all around them, Toronto actually opened the scoring. But Montreal held them to only four shots while posting 11 themselves in the first period, and Emelin's goal tied the score late in the period.
But it was the second period where Montreal really opened the play up, firing 17 shots on Ben Scrivens.
Pacioretty scored his first of two goals on the Habs only powerplay, a five-minute major to Mike Brown for checking from behind. A PK Subban point shot sent a rebound off Scrivens and then off Pacioretty into the goal to make the score 2-1.
"It's an attack mentality," said defenceman Josh Gorges. "It's not necessarily trying to make fancy plays with the puck, it's hard work that's sometimes not pretty."
After the goal Toronto got a little bit of momentum with a Mikhail Grabovski penalty shot. But Price was up to the task.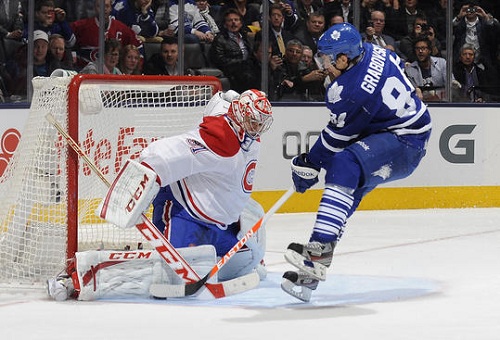 "I was just patient on it and waited for him to make a move," Price said. "I just took away what he gave me."
From there it was all Montreal, but one nice play by Nazem Kadri tied the game at two after 40 minutes.
The third period started with more back-and-forth play, but a lucky break on a faceoff allowed Gallagher to score and give the Habs the lead for good.
On a play that Don Cherry will certainly address Saturday night, some poor communication between the linesman and Leafs centre Tyler Bozak resulted in Bozak not being ready for the puck drop and losing it cleanly to David Desharnais. The puck went back to Gorges who fired a shot that Gallagher tipped.
But there was still 11 minutes to go in the third and Toronto had tons of time to tie it up. But instead they continued to let Montreal carry the play and off a turnover, Pacioretty scored his second of the game.
When Gionta scored an empty net goal before Scrivens had even reached the bench, the score was 5-2 and it was very clear which team is in first place. Montreal dominated the Leafs, out-shooting them 40-25 and not letting their aggressive play be a factor.
It was a great road win for Montreal and gives them even more momentum as they head home to face Sidney Crosby and the second place Pittsburgh Penguins on Saturday.