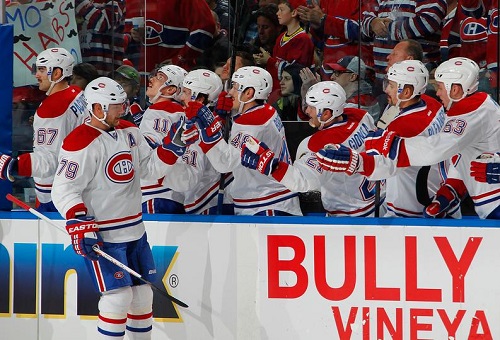 The Montreal Canadiens moved up in the standings with their fourth win in a row, a convincing 3-1 win over the Buffalo Sabres. Andrei Markov led the Habs with three assists, while David Desharnais had a goal and an assist. The kids Alex Galchenyuk and Brendan Gallagher also scored.
Buffalo is currently in last place and the Habs took to them early. Galchenyuk's goal came with under three minutes to go in the first, but after Montreal had a couple close two-on-one rushes. Lars Eller got around Henrik Tallinder and shuffled the puck in front, where Markov fired it off of Galchenyuk's pants into the net.
"We talk about it away from the rink, how smart [Markov] is," Gallagher said. "He makes it easy on us and obviously every team would like to have him."
Montreal continued to carry the play in the second. Buffalo decided to test the top ranked powerplay on the road and Montreal made them pay when PK Subban fired a shot that was deflected by Desharnais.
"If you can get big powerplay goals in the other teams building, it helps create momentum," Gallagher said. "We have the same mentality regardless of what building we are playing in."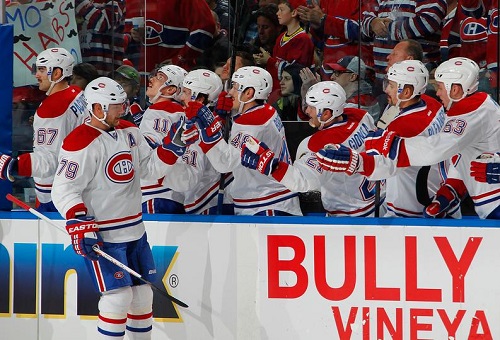 Buffalo did get some chances on Carey Price though and while the goaltender stood tall. But when Matt Moulson was left all alone in front, he didn't miss a one-timer glove side. That would be the only goal Price would allow, stopping 24 for his 10th win of the year.
"He always make big saves for us," Markov said. "He's helped us a lot."
Early in the third, defencemen Douglas Murray faced off against the infamous John Scott in a heavy weight fight. Murray left the ice bloodied but returned to the game.
"It was a scrum that turned into a fight," "He's definitely a big guy but it was tough because it was the end of the shift."
Gallagher's goal late in the third also came on the powerplay and sealed the win. Left alone in front, Desharnais hit him with a perfect pass that he fired into the net.
"The powerplay is about five guys on the ice and you have to work together and support each other," Markov said. "We scored two goals today and which gave us a good chance to win."
Montreal will close out November by visiting the Washington Capitals on Friday and then hosting the Toronto Maple Leafs Saturday.