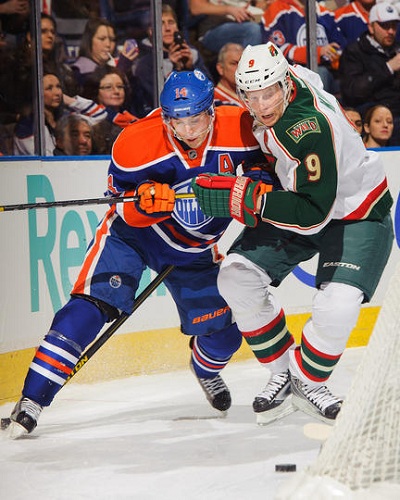 Amazingly, the Minnesota Wild have already played 16 games so far this season, which represents one-third of their schedule for this season. Due to the compressed schedule, this season has flown by rather quickly. With eight wins, six losses and two overtime/shootout losses, the Wild find themselves tied for seventh place in the NHL's Western Conference standings.
The Wild have had an up-and-down season to say the least. They continue to have trouble scoring goals. And they have yet to play a truly complete 60-minute game were they are firing on all cylinders. Despite all of that the Wild would find themselves in the Playoffs if they began today.
**The following grades are based on the first 16 games of the season**
Zach Parise: A
Parise has been worth every penny of his $98-million dollar contract. He has been a factor for the Wild every time he hops over the boards and onto the ice. His hustle, determination, and ability to win puck battles have made him the Wild's best and most consistent performer, to date. Parise leads the Wild with seven goals, and his 12-points are good enough to tie him with Mikko Koivu for the team's scoring lead.
Mikko Koivu: A
Koivu, the Wild's captain, has been excellent, as usual, so far this season. Tied for the team lead with 12-points, Koivu continues to provide a steady two-way game for the Wild. He remains the squad's best face-off man, penalty-killer, and passer. And with nine assists, he leads the team in that category as well.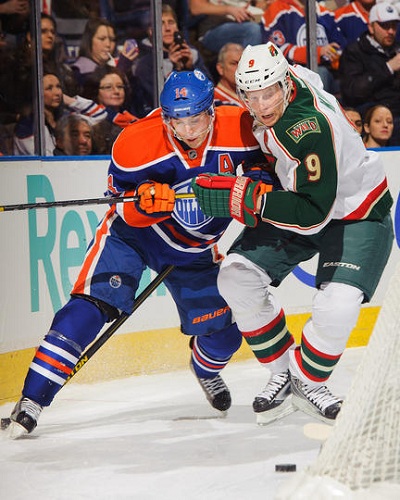 Matt Cullen: B
Despite a slow start to the season, Cullen has rebounded nicely, recently. In fact, after his three-point game last night against the Edmonton Oilers, Cullen now has nine-points on the year, which places him into a tie for third on the club's total points list.
Cal Clutterbuck: B
Clutterbuck has provided his usual energy throughout most Minnesota Wild games this season. His 49-hits lead the team, once again. Also, he provides a smart defensive brand of hockey, with occasional flashes of offensive flair. He has a great shot and if he could ever learn to hit the net consistently he could score 20-25 goals a season.
Dany Heatley: B-
Heatley has five goals and nine points so far this season. Those numbers are decent enough for a team that can't score, but they do not tell the whole story of his season. His skating has completely fallen off a cliff. While never the fastest skater, Heatley has slowed down even more this season. To the point that he might be the slowest top-line player in the NHL.
Devin Setoguchi: B-
His play the first three weeks of the season was so bad that fans were clamoring for him to be traded or released. Now, he has scored three goals in the last two weeks and the fans are back on his bandwagon. He needs to continue his recent stretch of consistent play to stay in the lineup and the good graces of the fans.
Mikael Granlund: C+
Granlund, the Wild's prized rookie, has played very well recently after being forced to sit a game out because of his inconsistent play early. The Wild and their fans need to be patient and allow this 20-year-old time to adjust to the the more physical style and smaller ice surface of the NHL game, because he has the talent to be a star in this league. I liked the way he has changed his game and played more physical after being benched early in the season.
Zenon Konopka: C+
Despite not getting a lot of ice-time, Konopka has quickly turned into a fan favorite. He plays a physical, in-your-face brand of hockey. His 52-penalty minutes leads the team, and is four-times more than his closest competitor on the Wild. As an aside, I would have loved to have seen what he would have done to the Oilers after Taylor Hall's cheapshot on Cal Clutterbuck. Sadly, Konopka was a healthy scratch for that game.(Let's just say things might get messy the next time the Oilers and Wild play.)
Torrey Mitchell: C+
Mitchell has not gotten a lot of ice-time due to him being on the team's fourth line. But when he has gotten the chance, he has flashed great speed. In fact, he may be the fastest skater on the Wild. Besides speed, Mitchell also brings solid energy and grit to the lineup. I would be in favor of him getting more time to showcase his talents.
Mike Rupp: C+
Rupp, who has played in seven games since being traded to the Wild, has provided the team with much needed size. He has also been a physical presence in front of the opposing team's net-minder. He has been exactly what the Wild traded for.
Pierre-Marc Bouchard: D
Bouchard has just three points on the season in fourteen games played. Quite frankly, that is not acceptable from a player who receives playing time on the second line during 5-on-5 play, while also playing with the number one power play unit. His biggest problem is his continued refusal to shoot the puck (like most of the team, in fact). He must step up his play, or he will be riding the pine a lot more the rest of this season.
Kyle Brodziak: D-
Well, was there any doubt about who was going to get the worst grade among the Wild's forward group. Brodziak has looked awful so far this season. His -6 plus/minus rating is the worst on the team. For a guy who excelled at shutting down the opposing teams top forwards the last two season, that is a pretty damning statistic. Also, he has flat-out looked lost on the ice at certain times this season. And he has lost all of his confidence playing the game. He appears to be thinking way too much; passing when he should shoot; shooting when he should pass; etc. Hopefully for his sake he can turn his game around before it's too late.
Charlie Coyle, Johan Larsson, and Jason Zucker all receive incompletes because they have not played enough games to be evaluated fairly.