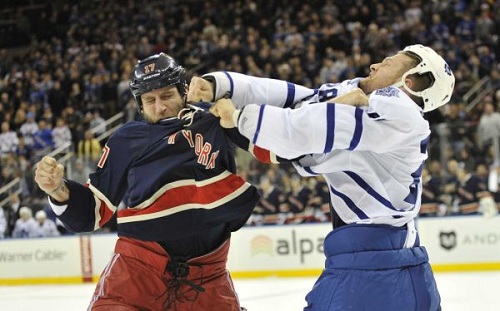 It has been an eventful past two days for the Minnesota Wild; With the team calling up prospect Charlie Coyle and trading forwards Darroll Powe and Nick Palmieri to the New York Rangers for forward Mike Rupp.
Meanwhile, both Devin Setoguchi and Mikael Granlund have been demoted to the fourth line of the Minnesota Wild because of their lack of production on the second line.
Obviously, with the acquisition of Rupp and the promotion of Coyle, the Wild is looking to add more size up front. As both Rupp and Coyle will bring power and size to the lineup.
Coyle is the Wild's top prospect, and was the MVP of the QMJHL's Playoffs last season. His game combines power with great hands. He will add size, power, and skill to whatever line he happens to play on.
Rupp, the newest member of the Wild, is a fourth line player that is willing to drop the gloves at anytime. He will bring a much needed dimension of grit to the squad. And he will add even more character to a team that already has Matt Kassian and Zenon Konopka. Plus, he has a ton of Stanley Cup Playoff experience, which Minnesota definitely could use if they manage to find a way into the postseason tournament.
Neither Powe nor Palmieri should be missed by Wild fans. Powe, scoreless through eight games this season, is a decent depth forward that has the ability to kill penalties when he is on his game. Yet he is scheduled to make just over a million dollars both this season and next, which is too much for a player of his caliber. Plus, the Wild is loaded with forward prospects, so Powe was deemed expendable.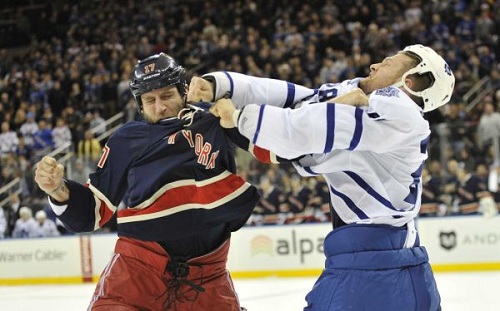 Palmieri basically had no chance to see the ice in the near future for the Wild. He has produced decent numbers in the minors, but with the depth the Wild has at forward he would have had a hard time even cracking the NHL roster.
All in all, I like the like the moves the Wild have made. After watching the first eight games of the year it was glaring how much the Wild needed to add size up front. With the additions of Coyle and Rupp, the Wild has succeeded in doing just that. And since they only had to give up two spare parts to acquire said size, I would deem the trade a solid maneuver. One, that will hopefully help the Wild to compete harder on the ice every night.