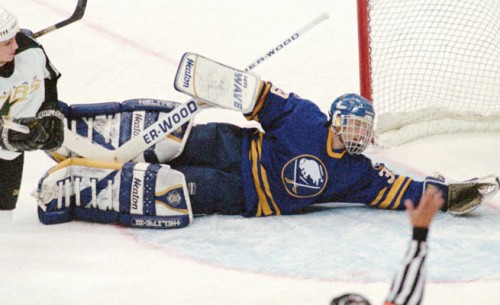 The First Niagara Center was rocking prior to Saturday's night game against the Tampa Bay Lightning. Fan favorite and one of the best players in franchise history, Dominik Hasek was inducted into the Buffalo Sabres Hall of Fame. With his induction, Hasek became the 42nd member.
Tribute video of Hasek played during the ceremony:
Hasek was acquired by the Sabres from the Chicago Blackhawks in 1992 for goaltender Stephane Beauregard and future considerations. From that point forward, he did not disappoint. He led the Sabres to the Stanley Cup Finals where they lost in game 6 to the Dallas Stars on a controversial goal. In his 9 seasons in Buffalo, he accomplished a lot and may have been the best goaltender in the 90s.
6 Vezina Trophies as the league's best goaltender
2 Hart Memorial Trophies as the NHL's MVP
2 Lester B. Pearson Awards for being voted most outstanding player by the players
2 William M. Jennings Trophies for allowing the least amount of goals in a season while playing at least 25 games.
Gold Medal at the 1998 Nagano Olympics for the Czech Republic
5-time NHL All-Star
6-time NHL First Team All-Star
At the Sabres Power Play Luncheon on Friday, Hasek spoke of his many fond memories of playing in Buffalo. He remembered how in 1998 after he had won the Gold Medal, there were thousands of people waiting for him back in Buffalo. In addition, there were houses in his neighborhood with Czech flags. "I want to be remembered as a competitor" said Hasek
The accolades do not end for Hasek. His #39 jersey will be retired next season, becoming the 6th Buffalo Sabre to have this honor. Other players include Tim Horton, Rick Martin, Gilbert Perreault, Rene Robert, Pat Lafontaine, and Danny Gare. In addition, Hasek will also be eligible to be inducted into the NHL Hall of Fame.
Hasek's unorthodox style of play allowed him to be one of the best goaltenders of all-time. He made several outstanding saves during his career and allowed his team to be competitive. Teams knew it would be tough to score on the "Dominator". There may never be another goaltender as exciting to watch as Hasek ever again. In this writers' opinion, he is the best ever.