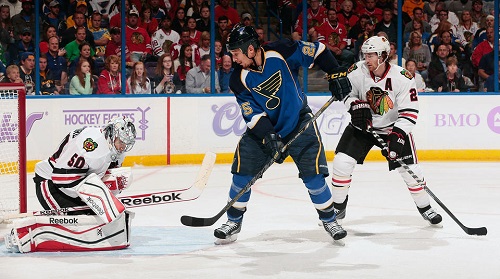 The Chicago Blackhawks took what was reported in other sources as a "brutal" loss to the St. Louis Blues early this season already. What made the loss so significant were several factors that all contributed to the most exciting Blackhawks game so far.
Chicago Captain Jonathan Toews described the game beforehand as a "playoff" game and that was the feeling throughout. St. Louis will be a big team to beat this season, as they are expected to have a fantastic year. So far, they are on pace as they have yet to face a loss. Although, they needed to pull out some heroics with about twenty seconds left in regulation to top the defending Stanley Cup Champions.
Chicago and St. Louis will face each other again on October 17th, and the energy and anticipation for the second of five meetings this season will be at a high.
The "Get the Red Out" game at the Scottrade Center was exciting enough for Blues fans as they got to see fan-favorite Alexander Steen play the role of hero. Vladimir Tarasenko opened the scoring and the Blackhawks had an answer for every goal except the last one. Patrick Kane and Toews both netted goals, but it wasn't enough.
What all this breaks down to is the resurgence, the re-ignition of a rivalry that will easily compare to the Chicago Blackhawks versus Detroit Red Wings war. Although St. Louis doesn't have the history of an Original Six team, they do have a varied, rich, and proud history. A good plenty of it including tilts with Chicago.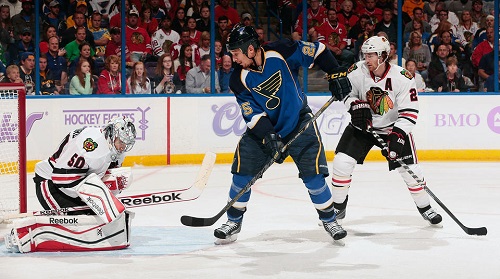 With Chicago coming off a Cup win, and the Blues predicted by at least one panel to take home the Cup this year, their battles are heated to a new level.
And that's what fans deserve. Especially after a lockout.
In both cities, these games will be big nights and the players on both benches will rise to the challenge.
Both teams have All-Stars and game-changers in their nightly roster and both teams pride themselves on their young talent and depth, whether it be on the bench or in the farm system.
Chicago has more veterans however. More players that have been in those pressure situations and held on enough to bring home championship rings (worth approximately $10,000). That could give them an advantage but it could also serve as an inspiration for the Blues. St. Louis is full of players who are young, hungry, and would like nothing better than to topple the experienced, veteran champions.
It was predicted early that the Blackhawks-Blues rivalry would be taken to a new level with the realignment. It already has been. But it will have an even greater effect for seasons to follow, and this first season will set the pace for the intensity later. For all hockey fans, that's good news.
Love Reading About Hockey?

Subscribe to keep up-to-date with the latest and most interesting hockey news!
| | |
| --- | --- |
| | We hate spam just as much as you |