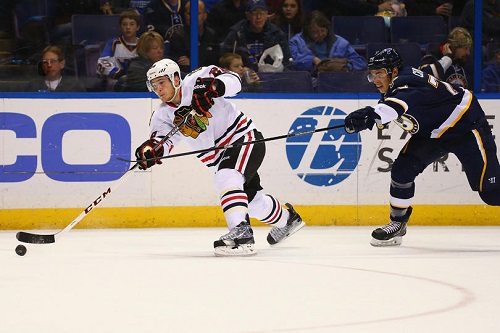 The pattern continues. Chicago's recent loss to the St. Louis Blues helps perpetuate the theme that has been running through the Blackhawks' history; they can't seem to play strong all 60 minutes of a game.
After the loss, the idea wasn't lost on those in the locker room.
"It's pretty disappointing when you give up two-goal leads," said Duncan Keith. Within 77 seconds, Chicago gave up a 5-3 lead to allow St. Louis to tie the game. Though the Blackhawks had a 3-1 lead at the start of the second period after starting the game 2-0.
"They found their legs in the second and third periods and really pressed," said Kris Versteeg. "They push all game."
"It was a really competitive game," said head coach Joel Quenneville. "They really turned it up in the second period and we didn't have the great response that we needed."
It was clear that the team was frustrated with the loss, and with good reason. However, Chicago had opportunities to cement the win all through the game. At several moments, Chicago held a two goal lead and let the Blues answer back. Captain Jonathan Toews had a breakaway in overtime and couldn't seal the deal. Patrick Kane, whose shootout attempts typically make the highlight reel, missed the net on this night's shootout.
But blame can't be placed on one pair of shoulder pads. Chicago is notorious for not being able to play a consistent, solid, and intense style of hockey for the entire hockey game. At some point, there is a lull, a lapse of judgement, an underestimation of the opponent.
What's really frustrating is that those lulls can't be traded away or coached out. Quenneville is making his case as one of the greatest coaches in NHL history, and general manager Stan Bowman has rewritten history books with his insightful and strategic moves.
Eliminating the lull is a matter of intensity for the guys on the bench every night. Battling for loose pucks, smarter passes, position awareness, all the little things that need to be done on every shift are being missed when the lead gets comfortable or the schedule looks easy. This season the Toronto Maple Leafs are, on paper, at the bottom of the NHL. Chicago underestimated them and ended up taking a hard 7-3 loss.
Intensity can't be bought or taught, it's a harder fire to light. Chicago can dominate when they feel the pressure to play at their elite level, but they need to keep the flames burning.