The Devils re-signed center Adam Henrique last week to a six-year, $24 million contract, thereby locking up one of their most promising young offensive players.
Henrique has tallied 27 goals and 40 assists in 116 regular season games over his first two regular seasons with the Devils. During New Jersey's 2011-2012 Stanley Cup Playoffs run, Henrique recorded five goals and eight assists, and finished with a +12 rating. For his efforts, Henrique was named to the 2011-12 NHL All-Rookie Team and finished third in voting for the Calder Memorial Trophy.
The last Devils player to be named to the All-Rookie Team was Niclas Bergfors in 2009-10 after he posted 13 goals and 14 assists; New Jersey traded him, Johnny Oduya, Patrice Cormier, and its first round pick in the 2010 NHL Entry Draft to the Atlanta Thrashers for Ilya Kovalchuck, Anssi Salmela, and the Thrashers second round pick in the same draft.
Henrique also tied an NHL record in the 2011-12 Stanley Cup Playoffs by scoring two series-clinching goals: one in double overtime in Game 7 against the Florida Panthers in the first round; the other in overtime in Game 6 against the New York Rangers in the Eastern Conference Finals. The latter is one the greatest moments in Devils history, as it not only stuck it to New Jersey's Hudson River rivals, but also avenged the 1993-94 Eastern Conference Finals in which the Rangers topped the Devils in double OT of Game 7 with a wrap-around goal from Stephane Matteau and went on to win the Stanley Cup.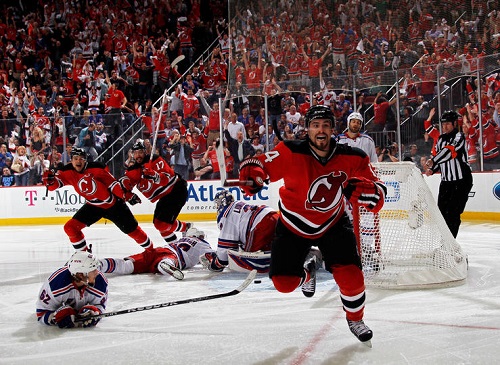 Side note: the winner of the Calder Memorial Trophy that year was none other than Martin Brodeur.
Henrique's numbers from the lockout-shortened 2012-13 season were solid as he tied for third on the team with Kovalchuk in goals with 11 – including three power play goals and two shorthanded goals – plus five assists, totaling the seventh most points for New Jersey.
Given the forwards who have flown the coop in the past year and a half, securing Henrique's contract was a vital piece to the Devils working their way back to being a playoff caliber team.