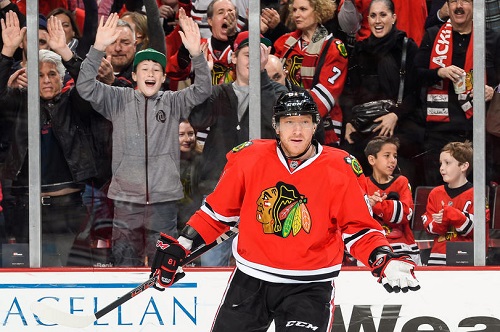 The Chicago Blackhawks have 50 members of their organization enshrined in the Hall of Fame in Toronto. Players, veterans, and builders associated with the team have left their impression on the game so strongly that they have been chosen to be remembered forever.
Some consider Marián Hossa one of the best players on the current Blackhawks roster. Some say he is one of, if not the, best athlete in the NHL today. He is making the case for induction.
As far as his NHL career is concerned, he has appeared in five NHL All-Star games, including his most recent in 2012. He was named to the NHL Second All-Star team in 2009, and the NHL All Rookie Team ten years earlier in 1999. After making it to the Stanley Cup Finals with both the Pittsburgh Penguins and the Detroit Red Wings, he finally snagged his Stanley Cup rings with the Blackhawks. That's rings. Plural.
In December of 2011, Hossa became the 85th player in NHL history to notch 400 career goals. Hossa has totaled up more than 1,000 NHL games , posting more than 70 points in a season seven times. He has two seasons with 80+ points, one season with 90+, he had over 100 points in the 2006-2007 season.
Internationally, Hossa has played in the World Junior Championships and World Championships. He appeared in the Olympics in 2002, but didn't bring home a medal. He scored the game-tying goal for Slovakia against Russia in the 2010 Olympics. He even participated in the World Cup of Hockey in 2004 during the NHL lockout.
Currently, Hossa has 457 career goals, 525 total assists, for a grand total of 982 NHL points. If he can hit the 1,000 point mark, and it shouldn't be unlikely with the seasons to come, he may be considered a lock for the Hall.
Hossa signed a 12 year deal with the Blackhawks in 2009, taking him to year 2021. He entered the NHL in 1997, meaning by the time his contract is up with Chicago he will have played in the NHL for 24 seasons. A lengthy, but not uncommon career.
He is, as of right now, one of the best to wear the Indian Head sweater in history. His overtime goal against the Nashville Predators was the catalyst for the Blackhawks bringing home the Stanley Cup in 2010, their first in 49 years.
Even official Blackhawk Historian, Bob Verdi, has deemed Hossa with "Hall of Fame credentials." Verdi is rarely off the mark with these kinds of insights.
Already an NHL star, no doubt a Blackhawk great, Stanley Cup Champion, Olympic staple, and true hockey professional, Marion Hossa will eventually be inducted after a worthy career.