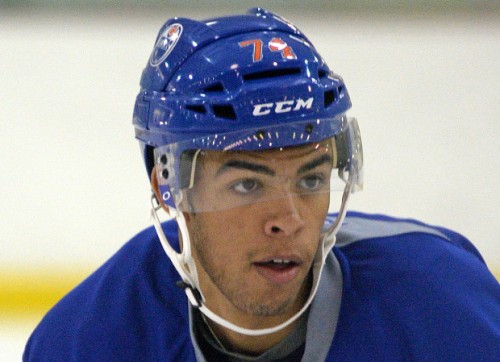 There seems to be a fairly arbitrary line about when to move young players up into the NHL, a thought that's likely on the minds of Edmonton Oilers fans in particular given the focus on a few fairly young players over the past couple years. Darnell Nurse was expected to be in the top 10 during the year he was drafted, and indeed the Oilers selected him in the first round. He was also the topic of controversy not too long ago as many questioned why he was omitted from consideration for Canada's World Juniors team.
He appears to be a defender with huge potential – so why are they sticking him in the Juniors? Many hold the opinion that high potential players such as Nurse may develop bad habits in the Juniors, surrounded by teammates who may not always match their potential or skill level. However, Nurse has been doing great in the OHL with the Sault Ste. Marie Greyhounds, serving as captain and absolutely killing it on the ice. His success highlights several benefits about nurturing someone like him in the Junior leagues. First, his status as captain gives the very young 19 year old experience and leadership skills that he likely would not get if he were on an NHL team. It allows him to become a bit of a veteran, in a sense, without the years which that usually takes. Additionally, he gets a ton more ice time to learn from, to react to various teams, to hone his own skills. Finally, though teams such as the Greyhounds do receive media coverage, he's not getting the kind of scrutiny that he would as a rookie in the NHL.
In terms of sheer physicality, he seems the picture perfect defenceman – 6'4, nearly 200 pounds, and known for his fairly aggressive style of play.
A variety of reporters have made comments along the lines of 'he's really improving.' This improvement is unquestionably great news – but it also quite correctly draws attention to the fact that, while he has great potential, there are definitely areas for improvement in any young player. Nurse himself has spoken in interviews about the involvement of the Oilers in his development, stating that they've been in contact on an almost weekly basis to inform him where he needs to concentrate his efforts and what needs improvement.
Nurse's first-round pick status shows that the Oilers saw more potential in him than in other later-round picks, and considering the Oilers' problematic defensive play, keeping Nurse in the Junior leagues while young forwards such as Hall and Yakupov were previously catapulted onto the main NHL roster seems a bit curious.
It's never clear when the right time is in these types of situations, so open forum question – is it better to nurse players with high potential for awhile in the Juniors, to let them gain some experience and maturity, or is it better to bring them onto the main roster almost immediately and let them develop with the team?