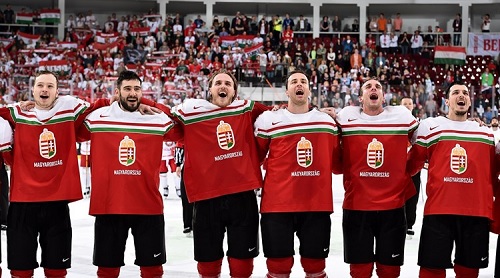 There's a party in Budapest centuries in the making.
Hungary, which came into the 2016 tournament the unquestionable favourite to be relegated – playing in a pool with the likes of Canada, Finland and the United States – did the unthinkable Saturday: picking up its first win at the IIHF's top level in a staggering 77 years.
It was the Belarussians who ended up on the wrong side of history, losing against a weaker opponent for the second consecutive game, having fallen to Germany only a day prior (this after picking up a surprising 5-2 win against the more powerful and favoured Slovakians earlier in the tournament).
It was an auspicious start to the game for the Hungarians, who jumped out to a 2-0 lead by the mid-way point of the first period thanks to goals from Gergo Nagy and a shorthanded marker from Janos Vas. Geoff Platt cut that lead in half, converting on Belarus's second power play of the game just five seconds in to make it a one-goal game heading into the intermission.
The teams remained scoreless early in the second before Belarus was able to draw even at the 13:17 mark on an Artur Gavrus goal, seemingly swinging the momentum in his team's favour. But the Hungarians showed great poise, weathering the front from the Belarussians before Balazs Sebok gave Hungary the lead for the second time in the game.
Vilmos Gallo doubled that lead three minutes after Sebok broke the deadlock, ripping momentum from the hands of the Belarussians and placing it firmly in their possession. With the game in hand in the dying second of the third period, it was Vas who scored his second of the game (an empty netter) that sent the already boisterous Hungarian fans in attendance into a frenzy.
Not to be overlooked is the effort from Miklos Rajna who, despite facing only 19 shots, had to be strong – particular in the first period when he faced 10 shots, the most of any period – to give his team a fighting chance at getting the win.
With the victory ungary now owns the tie-breaker with Belarus, putting it in 7th place out of eight with one game remaining against Germany (May 16, 1:15 EST).