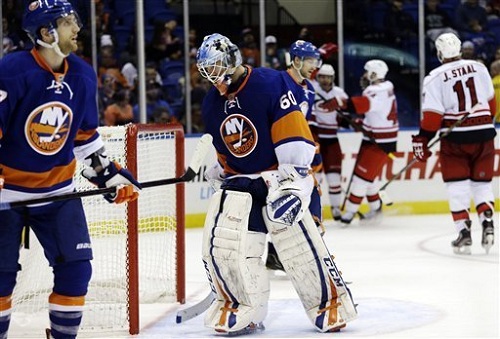 After dropping three straight games, the Carolina Hurricanes looked to right the ship against the high-scoring Islanders Sunday night. After a dismal home performance against Tampa Bay, the Canes needed a bounce-back performance from everyone if they had a chance to win the second game of a back-to-back. A slow start saw the Canes fall behind by a couple of goals early, but they battled and grinded all night, scored four unanswered goals, and snapped their three game losing streak.
After backup goaltender Dan Ellis let in 5 against Tampa, the team turned back to veteran goalie Cam Ward in the pipes. Ward looked very shaky early on, giving up a couple of goals to Matt Moulson and John Tavares, each of who always play notoriously well against Carolina. Moulson's 10th of the year and Tavares's 13th spotted the Islanders an early 2-0 advantage. With hopes dwindling and another loss looking likely for the struggling Canes, life was sparked on a power play with less than 2 minutes remaining in the second period by Captain Eric Staal. Staal batted in a rebound to cut the deficit to 1. Less than a minute later, brother Jordan Staal matched his brother with a wrister that caught goaltender Kevin Poulin, who was making his first start of the season in net, sleeping and the game was tied just like that headed into the third period.
The Hurricanes controlled play for much of the third period, and finally broke the tie at the 10:17 mark on a Bobby Sanguinetti wrister. The goal was Sanguinetti's first career NHL goal, which is a major accomplishment for the blue-liner. Alexander Semin scored an empty netter to seal the deal for the Canes, and the losing streak was broken after a hard fought game. Semin also had two assists on the night.
After the first two goals, Ward seemed to settle down in net. He made a couple of great saves to keep the Islanders' lead at 2, including a dandy with the glove on Kyle Okposo. Ward finished with 23 saves.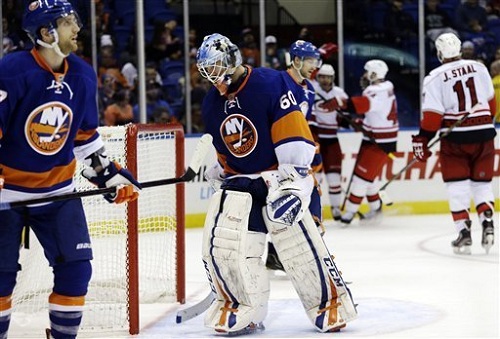 "This was a good win because we didn't quit and played a solid third period," Hurricanes coach Kirk Muller said. "I feel great for Bobby because tonight was his strongest game for us yet. He's a good skilled player who moves the puck well, and he was solid on both ends of the ice."
The win puts the Canes back in a tie for the division lead with Tampa Bay. The Hurricanes continue on their two-game road trip as they travel to Washington to take on the Capitals. This will mark the first team Alex Semin gets to play against his former club, and the atmosphere is usually great when these two division opponents get together.