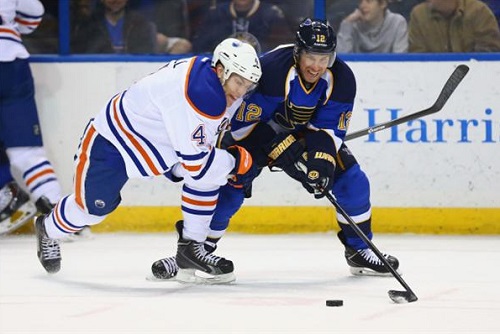 There may or may not be a way to raise this issue without sounding like you're merely calling for carnage, but here it is anyway. It's not a major thing, it's not something that's going to take a team from last to first, but it's something that bothered me during the Edmonton Oilers' last game against the St. Louis Blues.
Preface: obviously, your teammates don't need to fight your battles. I'm sure every player is capable of duking it out on their own behalf if they really need to. Teammates don't need to risk the game in a brutal brawl because someone on the opposing team shoved one of their players unnecessarily, or made a nasty comment on the ice. However, your teammate should have your back, to some degree.
And that's becoming the case less and less for the Oilers.
In a (brutal, for Edmonton fans) game against the St. Louis Blues recently, Taylor Hall got into it with St. Louis' Jay Bouwmeester and Vladimir Tarasenko. It wasn't an unreasonable outcome – he had flicked a puck towards the Blues' Ryan Miller on a play. However, what did seem a little unreasonable was that when they descended on Hall, who had already been banged up a bit earlier due to a high stick, the rest of the Oilers didn't really do anything. At all.
I've spoken several times about players like Luke Gazdic and Matt Hendricks who take on that role, shouldering into the middle of a brawl to come to a teammate's defense. Not every player is going to have the balls to do this, and that's fine. It's not boxing, after all, and if they don't want to put their face in front of some angry opponent's fist, that's their right and they shouldn't have to.
But… I mean, come on guys. While the Blues were working on Hall, Justin Schultz basically surveyed the crowd. Maybe looking for the beer guy, maybe looking to see what the Edmonton/St. Louis fan breakdown was, I don't know. He definitely wasn't paying attention to what was happening with Hall, though. And I'm not pointing the finger at him, it's a much more frequent occurrence than just the one time.
If it's not your fight, it's not your fight, you don't need to get a bloody nose on your teammate's behalf. Not everyone needs to be Doug Glatt (Goon reference – which I highly recommend for anyone who enjoys both hockey and comedy). But teammates should at least get in there, poke around, be involved in some way. Hockey is not an individual sport and team spirit goes a long way. If they're wearing your colors, you should stand behind them.
Love Reading About Hockey?

Subscribe to keep up-to-date with the latest and most interesting hockey news!
| | |
| --- | --- |
| | We hate spam just as much as you |