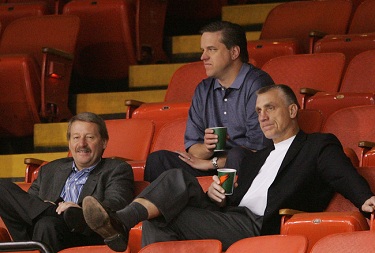 …I'd completely forget about last night and start looking toward the summer. The Flyers don't have a very stressful offseason coming up. For the most part, they have all their key players locked in to contracts until at least next season. Luckily, most of the key players are young players still on entry level contracts. This leaves more room to sign a few veterans without worrying about squeezing just under the cap, which I'm sure they will do because they do it every year.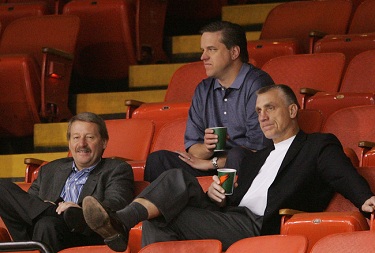 Two players I believe the Flyers need to re-sign are Jakub Voracek and Tom Sestito, and I think they will. Voracek showed his true talent toward the end of the season and into the playoffs. His speed and skating ability make him a huge asset. Speed is the name of today's game and he has it. Sestito, on the other hand, isn't nearly the offensive threat Voracek has become, but he's definitely a threat. He's a big boy. He hits, and he hits hard. He's exactly what the Flyers thought they were getting in Jody Shelley when they wasted a 3 year contract on him in 2010. Without Sestito in the lineup, they miss their heavyweight. Of course they have Rinaldo, but his size is no match for some of the bigger fighters in the league. Sestito and Rinaldo are an exciting combination, as we all witnessed this past season.
One player I'd like to see return is Jagr, but I'm not so sure it will happen. He'll most likely only return if he gets another $3.3 million contract. If the Flyers are looking to make deals, like the Nash for JVR rumors have been insisting, Holmgren will want to hold on to as much money as he can to be sure the deal can go down if it can.
One player I'd like to see not return, but I'm sure it will happen is Matt Carle. Recent rumors have the Flyers' front office saying they'll pay Carle whatever he asks. I don't agree with it. He made $3.8 million last year and if re-signed, he'll want more than that. He ended last season with a plus-4. That doesn't seem like a $4 million defenseman. For that money the Flyers can go hard after Ryan Suter, probably the best defensive free agent on the market this year. Flyers fans would much rather see Suter in orange and black. After all, someone will need to fill the role Chris Pronger will leave when he most likely retires. In a perfect world, Suter is signed and Brandon Manning is brought up from the Phantoms and given more opportunities to play.
As far as this offseason goes, that's really all the Flyers need to look into. As previously stated, they have many of their key players signed through the next few years. Great for cap room, but also great for team chemistry.
Whatever happens this offseason, Philly fans really hope they don't have to suffer through watching a bunch of former Flyers hoist the cup again. That was brutal.