Featured
Ilya Kovalchuk Reveals Shocking Story of NHL Coach's Epic Stick-Throwing Tantrum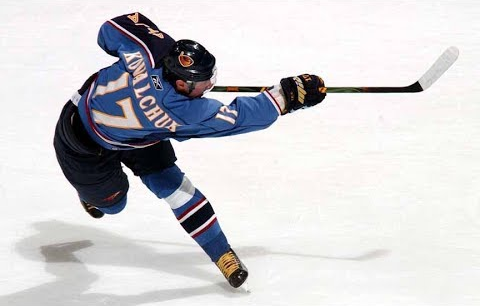 Ilya Kovalchuk appeared in 926 NHL games over the course of 13 seasons. Throughout his NHL career, Kovalchuk played for five different teams. When you play in the NHL for 13 years, you're bound to come across some fascinating stories. Kovalchuk recently spoke with Sport24.ru about one of those stories.
When asked if he had any issues with coaches during his NHL career, Kovalchuk recalled an incident from his time with the Atlanta Thrashers.
When I first came to Atlanta, Curt Fraser was the coach. I played with a big curve on my stick. At that time in Canada, they used a stick with a straight hook. In one of the games I got suspended for bending my stick. The next day he threw away all my sticks and gave me straight hook sticks.

After that, he and I got into a bit of a fight. We yelled at each other. Then I started bending these sticks. Half of the blades broke. Eventually he let me play with my sticks.
When the Atlanta Thrashers first entered the league, Fraser was their inaugural coach. It was Fraser's first and only job as a head coach in the league. He coached from 1999 to 2003, and his career record was 64-169-31-15 in 279 games. Fraser has worked as an assistant in the NHL, AHL, and now the KHL since his dismissal.
It's clear that behavior like throwing out your best player's sticks is one of the reasons Fraser hasn't returned to the NHL. This is just one of many great stories former NHL players can tell about their time in the league.