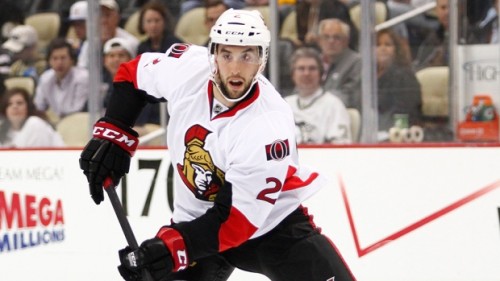 Given the way 2014/15 played out for him there were no shortage of questions surrounding Jared Cowen's future with the Ottawa Senators heading into the current season.
His problems were well documented – among them, poor defensive zone play that led to a career-worst minus-11, as well as a lack of consistency in his game that made him a healthy scratch 23 times. Cowen needed a break in the worst way possible this year – and he got just that in the form of an injury to Chris Phillips that would keep the long-time Senator out for months.
With five of the available six spots on the blue line already filled, the only obstacle standing in the way of Cowen regaining his full-time spot was Chris Wideman (a veteran of three seasons with Binghamton in the AHL and no NHL experience). Cowen made good on the opportunity presented to him, snatching up a spot in the top six to start the regular season.
From the outset it was clear Cowen was determined to change his fortunes on the ice from last season by making a concentrated effort to be more responsible. There are parts of his games that still aren't very flattering, but coming off a dreadful 2014/15 campaign that saw him post career-lows in many categories, this season has started considerably better for Cowen.
He has maintained his physical presence – his 41 hits are second on the team behind Mark Borowiecki and tied for 9th among all defencemen – but the biggest difference is he has been a lot smarter about when to take the body. The fact he has been more selective when utilizing his physicality has been of great benefit to his team, reducing the frequency of odd-man rushes.
Cowen has also sacrificed his body, recording 22 blocked shots to sit 2nd on the team behind Erik Karlsson. While neither his hit, nor his blocked shot totals are far off from last season – his hits per game are on par and he is averaging only 0.2 more blocked shots per game this season than last – his defensive game has seen a noticeable improvement.
Turnovers are, however, still an issue for Cowen who has 13 in 14 games (compared to just two takeaways), but he still has a ways to go to match the minus-20 turnover differential he had in 2014/15. Despite this obvious flaw, Cowen has still done enough to make head coach Dave Cameron and his staff feel confident enough sending him out on the penalty kill.
He has seen a team-high 44:37 of shorthanded ice time (19th in the league) and leads all Sens with an average of 3:11 shorthanded ice time per game. While that's due, in part, to the fact Ottawa is one of the most penalized teams in the league, it also speaks volumes about Cowen's play, given that he averaged only 2:08 of shorthanded ice time per game last season.
He still has a long way to go to become the player the Sens thought they were taking with the ninth pick in the 2009 Entry Draft – his possession numbers, for example, are among the worst on the team – but he has no doubt taken a big step towards that goal early on this season.