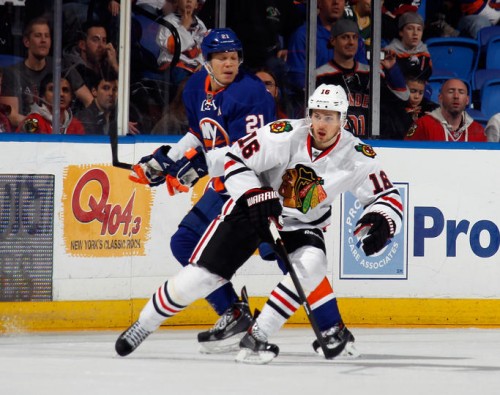 Joel Quenneville likes changing lines. That's no surprise to anyone who has watched Blackhawks games during his tenure. He especially likes changing lines when the team isn't winning, or when the offense isn't coming like he'd prefer. So it's no surprise, then, that this morning at the pregame skate, Quenneville did some serious line juggling, including giving Marcus Kruger another shot at the second line center position.
A vocal minority of Blackhawks fans on Twitter (and isn't it always the vocal minority in instances like this?) believes Brandon Pirri is the answer to the Blackhawks' 2C problems. Well, sorry folks, but I'm here to tell you that, right now at least, Brandon Pirri isn't the answer to anyone's problems.
Pirri put up 7 points (3 goals, 4 assists) in 10 games with the IceHogs after he was reassigned to the Blackhawks' AHL affiliate on December 4th, but on December 30th in a game against the Charlotte Checkers, Pirri suffered a lower body injury. He hasn't skated since, and at the time of the IceHogs' last game, Ted Dent didn't have a timetable for Pirri's return. Hopefully it will be sooner than later – Pirri was recently named to the AHL All-Star team, and is a very fun player to watch – but right now there is no definitive date.
That being said — and I know this may not make me any friends — I don't know that Pirri would be my go-to guy even if he was healthy. Quenneville and Blackhawks' GM Stan Bowman both cited concerns for Pirri's defensive play as reasons for him being returned to the AHL. Given their past successes, I have to assume they know what they're doing better than I do in this instance. Bowman has no qualms about using Pirri when he's healthy, and has said as much, but Pirri didn't have a point in 8 games prior to being sent down. He needed a jump start, and he needed consistent minutes. He'll get those in Rockford, and maybe we'll see him again before the season is over. I'd at least put a small amount of money on it.
Marcus Kruger, on the other hand, has more than earned the shot. He's improved by long strides in his past few seasons with the Blackhawks, and it's been more than evident. It was even enough to get him named to the Swedish Olympic team. His faceoff percentage has improved dramatically from last season – he currently sits at 9th in the league, up from where he finished at 71st last year. On the 2nd line he'll be facing different competition in those faceoff circles than he would on the 4th, but I'm not too concerned.
You know who else isn't concerned? His teammates.
When asked after morning skate today if having a revolving door of second-line centers made things difficult for him, Patrick Kane said, "I wouldn't say it's difficult. It's exciting to play with different players."
"He's one of the guys we definitely rely on when we're trying to hold a lead," Brent Seabrook remarked, high praise from a veteran defenseman. "He does a great job on the penalty kill and in his own zone. He always seems to be a good option for us D-men to hit him with a hard pass, and he's able to get the puck out. He can play on the offensive side of the puck. He's pretty tricky with the puck. I don't think a lot of people know that. He's been good for us."
"He's capable of playing anywhere; not a lot of people can say that. And he's capable of making plays," Patrick Sharp said. "He's a big reason why we win in here because he accepts his role and does it the best he can at it."
For tonight at least, Kruger's position is between Bryan Bickell and Kane, and you can bet he'll work as hard there as he does when he's centering Brandon Bollig and Ben Smith. That can only be an asset for the Blackhawks. And if it kickstarts Kane and Bickell again, so much the better.