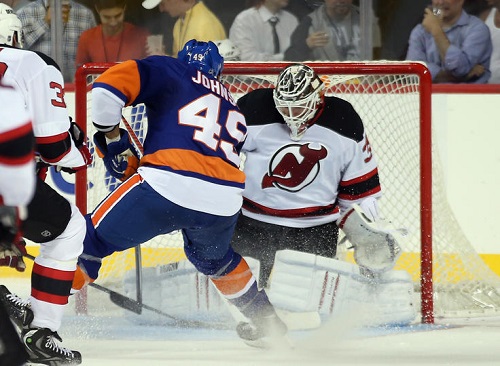 The past few days have been busy ones for the New Jersey Devils, as they put two more preseason games are in the books and shrank their roster significantly, reassigning 15 players to the Albany Devils (AHL) and six to their junior teams.
Thursday saw the Devils drop a 5-3 decision to the New York Islanders, but they bounced back nicely to record a 3-0 win over the Isles on Saturday at the Barclays Center, the Islanders' future home.
Goaltender Cory Schneider played all three periods in Saturday's shutout win, stopping 26 shots. My favorite thing about him, though, is that he has his head on straight about his role and what he needs to do to continue to improve.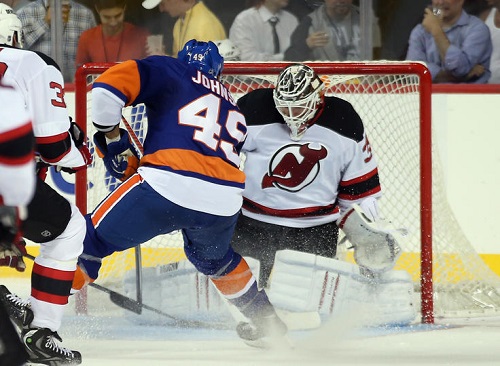 "It's not as much about the result right now, it's more about just how guys are feeling. I felt good tonight, improved in some areas from last game. But again, still a few times where I was kicking out some bad rebounds, pucks that I should be eating up and it led to a few more chances and shots," Schneider said.
That he exudes an incessant desire to do it better the next time, even after a shutout win, speaks volumes about his character and attitude, and I believe that this intangible will have a huge impact on the Devils this season.
Head coach Pete DeBoer seems to agree, too: "[Schneider] looks solid in the net. He gives your team confidence, a lot like Marty [Brodeur] for us. There's a calming influence to guys like that."
Last season was a rough one for the Devils across the board, but Brodeur being sidelined for 12 games was probably one of the biggest issues they faced. In Brodeur's absence, backup goalie Johan Hedberg and the Devils went 3-8-2 and were outscored 42-27. It's not that that responsibility falls solely on Moose's shoulders – Ilya Kovalchuk also being out for 11 games during the same time frame didn't help – but it appears that having a younger goalie who is on the rise in his career will allow for the Devils to rely more heavily and confidently on their backup.
So, although it's preseason, Schneider has been impressing both in front of the net and in front of his new team. Not that I anticipate that he'll be the only newbie to make an impact, though.
Jon Merrill recorded a goal and an assist in Thursday's loss to the Islanders. He played in 12 games for the Albany Devils last year, recording eight points with one goal and seven assists.
Eric Gelinas technically isn't new since he played in one game with the Devils last season, but he also had a two-point night on Thursday as he dished two assists. Gelinas played in 57 games in Albany last year, notching the fourth highest point tally on the team with 22 (six goals, 16 assists).
Two of the Devils' newly signed forwards were active, too, as Rostislav Olesz scored once on Thursday while Michael Ryder recorded an assist.
Damien Brunner, signed to a pro tryout by the Devils the night preseason games started, dished two assists on Saturday, doing his best to make a case for a roster spot in New Jersey.
Spreading the action across several players – rather than relying on just one (ahem, Kovalchuk, ahem) to do the lion's share of the work – will make New Jersey a harder team to stop, and while yes, I know, it's only preseason and these games don't count, the Devils have seen some positives out of their end-of-season-into-summer drama.