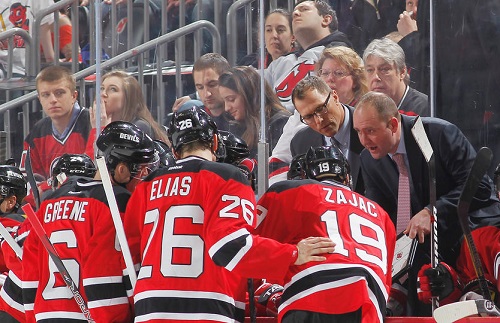 The Devils start training camp this week with head coach Pete DeBoer staring his third season leading the helm, making him the first coach since Jacques Lemaire to lead the team for three consecutive seasons. Consistency is good, but DeBoer must have this goal in sight: the Devils must return to the playoffs.
DeBoer was named the Devils head coach during the 2011 offseason, following three years leading the Florida Panthers. In his first season as head coach in New Jersey, DeBoer led the Devils to finish fourth in the Atlantic Division and sixth in the Eastern Conference with 102 points and a 48-28-6 record. New Jersey beat the Panthers in the first round of the Stanley Cup playoffs – DeBoer's first time reaching the postseason – then topped the Philadelphia Flyers in the second round and the New York Rangers in the Eastern Conference Finals before falling to the Los Angeles Kings in the Stanley Cup Finals.
New Jersey enters the 2013-14 season after missing the playoffs last season for the second time in three years.
In the past 18 months, DeBoer has seen his squad lose three of its best players up front in The Player Who Shall Remain Unnamed, Ilya Kovalchuk, and David Clarkson. However, Devils General Manager Lou Lamoriello has re-signed Patrik Elias, Dainius Zubrus, and Adam Henrique, while also adding Jaromir Jagr, Ryane Clowe, Michael Ryder, and Rostislav Olesz to beef up the offense. Lamoriello also snagged the steal of the 2013 NHL Draft in trading the Devils ninth overall pick to the Vancouver Canucks in exchange for goalie Cory Schneider.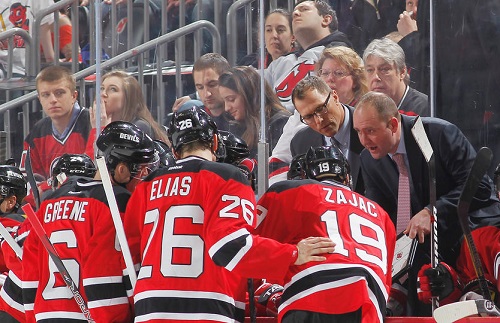 The new forwards, while good for the Devils on paper, have a lot to prove. Namely, that they can score more than the Devils have the past two seasons.
You can call it a transition year – everyone that I've talked to seems to think that the Devils are going to be terrible this season – and it does seem like they're going to be fighting an uphill battle, but I'm optimistic about their chances. The veterans, specifically Elias and Martin Brodeur, don't want to miss the playoffs for a second consecutive season, and DeBoer has a strong amount of depth from which to pull.
I can only imagine that DeBoer is as ready as he can be to make the most of the roster changes New Jersey has undergone in the past few months to get the Devils back to the Stanley Cup playoffs.