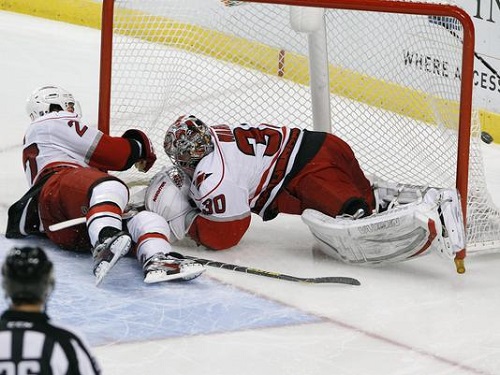 The turning point in the 2012-13 for the Carolina Hurricanes was when goaltender Cam Ward was involved in a collision with defender Justin Faulk and Panthers' forward Jack Skille. At the time of the injury, the Hurricanes led the Southeast Division, and looked to be in a prime spot to continue their success. Ward's knee was sprained and he was sidelined for the remainder of the season. With backup goaltenders minding the net from that point forward, the tailspin occurred.
Every single team in the National Hockey League has to deal with injuries at some point or another. The season is long, grueling, and can push players to the limits on a nightly basis. When a key component (such as Ward) is lost for an extended period of time, many weaknesses are exposed that were covered up by said player. In Carolina's case, the weak defensive unit showed their true colors for much of the remainder of the season.
If the Hurricanes want to be successful next season, they must stay healthy. I know it seems obvious, but with so many question marks surrounding key pieces, one wonders who will be rolled out on which lines on a nightly basis. Along with the injury to Ward, the Hurricanes are worried about the knee of Captain Eric Staal. During this year's World Championships, Staal took a brutal knee-on-knee hit from Sweden's Alex Edler. Much like Ward's injury, Staal sprained his knee and is currently rehabbing. Caniacs held their collective breaths when the injury occurred, and let out sighs of relief when the injury wasn't as serious as it could have been. That being said, Staal has a long road ahead of him if he wants to be fully healthy by October 4th, when the Canes take on the Red Wings in the season opener.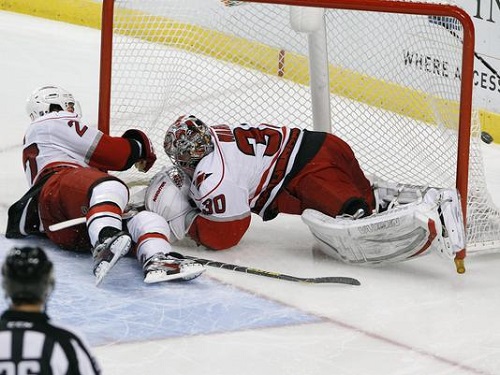 Another top six forward that the Canes are being careful with is Tuomo Ruutu, who missed most of last year's truncated season recovering from hip surgery. Ruutu returned to the lineup late in the season, but was unable to play with as much physicality as Caniacs are used to seeing.
The Hurricanes were 6th in the league in terms of man games lost due to injury (168) during the 2012-13 season. Again, injuries happen to every team, and the Hurricanes didn't exactly respond well to losing players. Team depth has been an important part of this season's plan, and the Hurricanes have several players that will push for bottom 6 spots in the lineup. They've solidified themselves in net with the signing of goaltender Anton Kudobin. If a slew of injuries were to occur, the Hurricanes seem to be in a better position to survive the season.
However, if all three of Ward, Staal, and Ruutu aren't fully healthy and 100% by the season opener, it could be a long season for the Hurricanes in the newly formed Metropolitan Division.