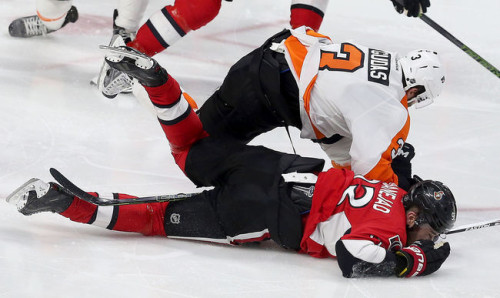 They say all teams must face adversity at some point if they hope to become great. Adversity, thy name is injuries.
Sill in the early stages of their busiest month of the season (a workload matched only by their March schedule), the Ottawa Senators could be without a number of important players for a significant portion of December. Having already played once this month – a 4-2 loss to the Philadelphia Flyers – the Sens still have another 14 game left on the 2015 calendar.
It was the aftermath of their matchup with the Flyers that made the task of having a successful month an even more daunting one. Milan Michalek (finger) and Mika Zibanejad (upper body, a.k.a. concussion) were knocked out of the game by Flyers defenceman Radko Gudas – the latter play earning him a three-game suspension for an illegal hit.
It's unclear how long Zibanejad will be out of the lineup, but after taking a forearm shimmy to the head he'll likely be out for more than just a game or two. The diagnosis for Michalek, meanwhile, is better, albeit not by much: out roughly two weeks with a fractured finger he suffered blocking a Gudas shot.
Kyle Turris nearly lengthened the list of players wounded by Gudas after being on the receiving end of a late hit by the Flyers' bruising blueliner that left him winded. Fortunately for the Sens, Turris – who has already played through lingering wrist issues this season – returned for his next shift, but many of his teammates haven't been so lucky as to say the same.
Prior to the game against Philadelphia, the Sens were already without Patrick Wiercioch, Andrew Hammond and Clarke MacArthur who are all suffering from concussions. MacArthur's situation has by far been the worst of his concussed teammates, limiting him to just four games in the 2015/16 season (he last played Oct. 14 against the Columbus Blue Jackets).
Limiting injuries is of course important for any team to achieve success, but maintaining a healthy lineup is of paramount importance when embarking on such a compressed schedule. This fact should be especially concerning to the Sens who are not only dealing with multiple ailments, but are also in the throes of the most arduous part of their schedule
In addition to having the unenviable task of facing three current division leaders – the New York Rangers, Los Angeles Kings and Atlantic Division rival Montreal Canadiens – only three of their December opponents would not be playing if the post-season was to start Dec. 3. Of those three non-playoff teams, each is within two points of a playoff spot.
That the roster of last year's team – one that went 21-3-3 in its final 27 games to make a historic run at the playoffs – remains largely in tact is a reminder that anything is impossible. But playing grade-A opponents with a lineup that, at present, is less than 100 per cent doesn't bode well for Ottawa.
Love Reading About Hockey?

Subscribe to keep up-to-date with the latest and most interesting hockey news!
| | |
| --- | --- |
| | We hate spam just as much as you |