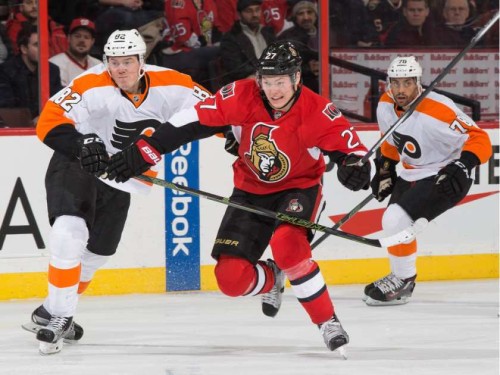 You wouldn't know it by looking at him – seriously, does the kid ever stop smiling? – but Ottawa Senators forward Curtis Lazar hasn't had a lot to be happy about this season.
His offensive production has still yet to reach its full potential and is only slightly better than last season's. Considering he had only 15 points as a freshman in 2014/15 that's not saying much, but he had a strong finish upon returning to the Sens from the 2015 World Junior Championships where he captained team Canada to gold while putting up nine points in seven games.
This year, as an overaged 20-year-old, he had no such luxury and in the midst of his second consecutive sub-par start to the season – two goals in 32 games prior to the Christmas break – Lazar was given no relief by having to sort things out against men rather than teenagers. But how much of Lazar's inability to score is solely his doing and how much of it is how he is used?
He is, of course, responsible for his own performance and success, but there is something bigger at play here. In only his second season in the NHL Lazar has already been rewarded – punished, perhaps? – by Dave Cameron with a more defence-oriented role that is much different than the offensive role he filled in junior with the Edmonton Oil Kings.
Only Chris Neil and Shane Prince, who himself has been the victim of selective ice time, average fewer than the 13:29 of ice time Lazar averages each night. According to behindthenet.ca, most of those even-strength minutes have been spent in a shutdown role, as evidenced by his 0.097 Quality of Competition rating that is second on the team and 12th in the league.
His limited ice-time and difficult matchups can also help explain his disappointing 42 shots on goal that put him last among all Ottawa forwards and ahead of only three of the team's defencemen. Making matters worse for Lazar is the fact he has scored only three times on those 42 shots, giving him a dismal 7.1 shooting percentage.
That Lazar sees more time on the penalty kill than on the power play only exacerbates his offensive woes. The 41:36 he has seen on the power play are eighth among Ottawa forwards (ninth overall), while his 56:14 of shorthanded ice time are fourth among forwards and eighth overall – i.e. his chances to score are limited at best.
Junior hockey is a different animal altogether than the NHL, but you don't score 41 goals and average more than a point per game (something Lazar did in 2013/14) by getting lucky, so the offensive potential is there. His five-on-five PDO of 95.91 (last on the team) suggests he has simply been unlucky this season, but putting more emphasis on offence could turn things around.
With a spot in the top-six that has gone unclaimed for much of this season, the only question is whether or not the Sens are willing to give him a shot.
*Rankings for all stats are based on players with a minimum 30 games played in 2015/16