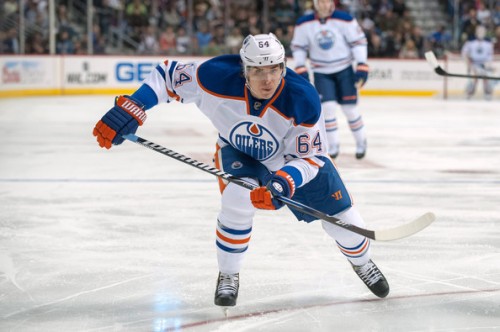 Sometimes, the 1st overall draft pick is a lights-out, NHL-ready talent; sometimes, that talent is well-suited for the minors, but fizzles out quickly in the big leagues.
Before analyzing Nail Yakupov, let's look at the 1st overall pick in the 1993 Draft: Alex Daigle.
Alex Daigle began building his resume in the QMJHL in the 1992-93 season with the Victoriaville Tigers, coming in 9th place in scoring (35 goals, 75 assists for 110 points) en route to a Tigers last place finish in the "Q." Daigle improved upon his performance, and came in third place in scoring with 45 goals and 92 assists the following season with the Victoriaville Tigers. Because of his performance in the minors, Daigle was hailed as a game-changer, and a "can't-miss prospect," so much so that the 1992-93 Ottawa Senators were accused of deliberately losing games to have the privilege to draft him. The Quebec Nordiques even allegedly offered Owen Nolan, Peter Forsberg and Ron Hextall for the draft pick that would become Daigle, as they coveted the next French-Canadian star.
Daigle's rookie season was impressive, putting up 20 goals and 31 assists on an offensively-starved team, but a combination of factors led to his subsequent efforts be minimized, such as a long-term lucrative contract before being deserving of it, and alleged drug use and partying. Daigle was outplayed by Alexei Yashin, and a stubborn Senators management wanted to hold on to hope that Daigle would return to form and regain his dominant edge that he had in juniors, sparking the Yashin debacle, which is another story in itself.
Weighing in at the same point of Yakupov's career, after the conclusion of three seasons, Daigle had accumulated 105 points (41 goals, 64 assists) in 181 games, and was a year away from matching his career-high 51 points.
So, what about Nail Yakupov?
Yakupov started his career in the Minor Hockey League in Russia, with Reaktor Nizhnekamsk, not making much of an impact, as he had appeared only in 14 games and recorded 6 points; he decided to move to the OHL, where his dream of playing in the NHL could be realized quicker, being drafted by the Sarnia Sting. On his first season with the Sting, they failed to make the playoffs, but Yakupov made an impact, scoring 49 goals and 52 assists, finishing fourth in scoring, only seven points behind the leader, Tyler Toffoli. On his draft year, Yakupov was slowed by injury, but still managed to figure in on the Sting's offence en route to a playoff appearance, scoring 31 goals and 38 assists.
Yakupov's pre-draft record glimmers a little more, putting up 13 points at the 2011 IIHF World U-18 Championship, only behind teammates Nikita Kucherov and Mikhail Grigorenko, en route to a bronze medal finish for Russia, as well as figuring in Russia's silver medal capture in the World Juniors on his draft season with 9 assists.
Though it is noteworthy that the Edmonton Oilers as a team have been disappointing and under-performing for the while now, Yakupov's role is exceptionally disappointing, putting up a total of 88 points (42 goals and 46 assists) in 192 games, hardly the dominant role he had in the minors. While it remains to be seen if Yakupov will get it going this following season, it looks like a core comprising Taylor Hall, Jordan Eberle, Ryan Nugent-Hopkins, and a young, promising Connor McDavid has made Nail Yakupov expendable in Edmonton. Only time will tell if Nail Yakupov is truly a draft bust on the scale of Alex Daigle.