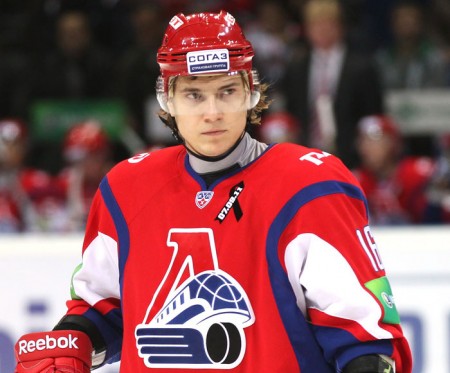 It's the offseason: well, the playoffs for some. But, for the rest of us have-nots sitting on the outside-rollin' down the street, sippin' on gin and juice (*I do none of these things*)-looking in, the dark time between our respective teams' crashing out of postseason contention and their draft day performance is typically filled with a lot of gasbagging and hoopla from people like me who "know hockey" or whatever. Personally, I'm just thanking every major deity that rowing season is over. My hands look like a discounted steak and my bank account looks like Savannah, Georgia after William Tecumseh Sherman's had his way with it. I invoke thee, Based God, and beseech thee to lift this based curse off of my finances. Give one to Dwight, or something. He's a schmuck.
At any rate, something pretty cool happened today-a burst of inspiration, if you will. Perusing my Facebook like a normal unemployed 20-year old, I happened upon a particular post, a post elucidating on the termination of a KHL contract by one Sergei Plotnikov. No longer enthused by the prospect of plying his trade with Lokomotiv Yaroslavl, this particular Russian opted out of his deal, rendering him a free agent in the hopes that he will catch on somewhere in the NHL. Onward to greener pastures, or whathaveyou.
So, first things first: who the hell is this joker, anyway?
ANSWER: Sergei Plotnikov-born June 3rd, 1990 in some trippy pseudo-Shakespearean hamlet named Komsomolsk-on-Amur-is a Russian forward. Progressing through the ranks of his hometown program, the 6'2″, 205-pound skater first cracked the KHL with Amur Khabarovsk, spending three years with the club before transferring to Lokomotiv following the air tragedy that wiped out their entire roster. Blossoming under the crest of his new team, Plotnikov upped his production in each of the three seasons he spent in Yaroslavl, recording career highs in goals (15), assists (21), points (36) and games played (56), all the while sporting the "A" of the alternate captain on his sweater.
Next question: what the hell does he do?
Well, hypothetical-reader-existing-as-a-construct-of-my-imagination, this is where the fun begins. Characterized by Eliteprospects as "a hard working winger with good game vision who plays an impressive physical game", Plotnikov possesses the versatility to play on either flank of center, left or right. With 300 professional games at the young age of 24, he carries a level of experience that you would be hard-pressed to find in most skaters his age; hell, there are dudes who are out of the sport before even kissing half of that figure. Having shown a penchant for steady development, the only gripe anybody has uttered about his game relates to a deficiency in skating ability. Which, yeah, is kinda crucial to that whole ice hockey thing, but, in the mind of a kid who has never laced a pair of skates in a competitive environment, is nothing that a couple of bag skates and a hard-ass drill sergeant of a conditioning coach can't fix. Think of it this way-for a guy who may or may not move like he's slogging through peanut butter, he still managed to place second in Loko's team-scoring race (coming up a point short of Igor Averin's 37 points in spite of playing three fewer games), still managed to register 114 hits on the regular season, and still managed to STEAL YO GIRL. That last one may or may not have happened. My bad. All jokes aside, an atypical Russian forward-characterized by solid work ethic and an uncanny resemblance to a failed Evel Knievel stunt-jump (bouncing off of bodies and boards like a helmeted human pinball)-of Plotnikov's pedigree is something that warrants attention.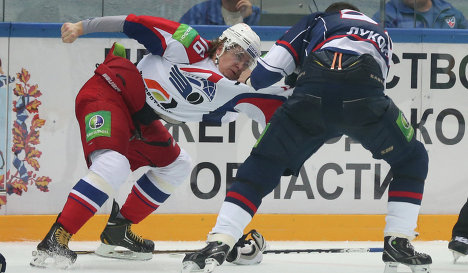 Last question, I swear: yeah, that's cool and all that jazz, but how the hell can he help the Florida Panthers? Watch as I drop straight intellectual fire, fam.
EXHIBIT A: if we examine the Panthers' roster in its current state, as outlined on the team's homepage, we'll find a total of eight listed wingers, four right and four left. Of those eight, four are slated to become free agents come July 1st; assuming Dale Tallon doesn't have his head up his ass, Jimmy Hayes and Jonathan Huberdeau-impending RFA's and key offensive components-ought to be locked up tighter than a tick, whittling that number down to two. Said two, Tomas Kopecky and Scottie Upshall, may have seen their time in Sunrise come to an end; holdovers from the great 2011 free agent spending spree that Tallon orchestrated, the duo's offensive production has declined of late, and roster architect Tallon may be looking to improve the corps of wingers at his disposal. Admittedly, with the glut of players at the center position, certain openings can be filled: case in point-the shifting of both Brandon Pirri and Vincent Trocheck to the wings. Also, Tallon may opt to fortify from within, calling the mercurial Quinton Howden up to the big club for good. A little competition, though, never hurt anybody, and with a GM that's hellbent on adding big forwards who are unafraid of getting dirty, Plotnikov may admirably fill that bottom-six gap left by the departures of Upshall and Kopecky.
EXHIBIT B: the Florida Panthers' prospect pool, though deep, is disturbingly thin at right wing. Listing a grand total of three skaters at the position, Hockey's Future identifies late-blooming Michigan forward Zach Hyman as the marquee colt in that stable; in my opinion, signing a player of Plotnikov's quality and age, while not reinforcing the pool outright, affords both Dale Tallon and his prospects an opportunity to address the issue. On Tallon's end, shoring up the bottom-six's scoring and physicality allows him to grant his future players time to mature and develop, while enabling him to rectify a glaring need through the draft, restocking the coffers and refilling a pool that may be running dry. As for the players themselves…uhh…just reread the first half of the stuff I said about Dale Tallon.
EXHIBIT C: according to spotrac's breakdown of the Cats' 2014 salary cap situation, the Panthers boasted $7,497,370 of cap space, factoring in active/dead contracts as well as buried money. If we take into account the potential departures of Upshall and Kopecky-9.42% of the team's total cap hit-that number could rise, giving Tallon extra flexibility with which to improve the roster. While Plotnikov has been effective in the KHL, teams may have questions about his ability to adjust to the North American game; whether they be founded in his skating issues or the "Russian factor", GM's the league over could potentially have some reservations about the young forward. Furthermore, though he placed third in scoring at the 2014 IIHF World Championships, his numbers on the international stage took a heavy hit in 2015, as he managed a paltry pair of points representing Russia at this year's tournament. Whether or not this raises a red flag about his ability to compete against higher competition remains to be seen-personally, I see it as an opportunity to possibly "buy low". With this medley of cap space and the inquiries that could very well be swirling around the minds of general managers, Tallon could offer the Russian a fair deal, luring him to the BB&T Center and taking another step in prepping the team to make some real noise this upcoming campaign.
Remember, this is all conjecture and opinion. This is America-I can sound like a jackass if I'd like (but on the real tho I hope I didn't you guys). Also, I just wrote an essay. I literally just wrote a f***ing essay. IT'S SUMMER. WHAT AM I DOING WITH MY LIFE.
Love Reading About Hockey?

Subscribe to keep up-to-date with the latest and most interesting hockey news!
| | |
| --- | --- |
| | We hate spam just as much as you |