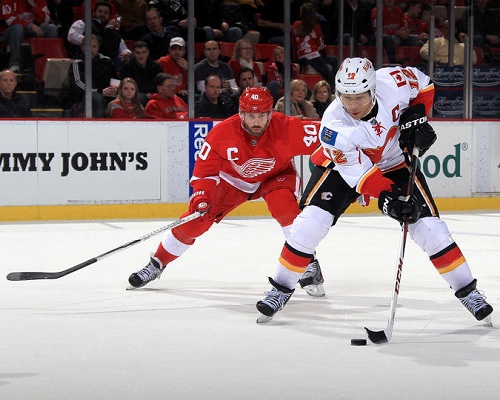 The Calgary Flames have continued their rough start to the year with a 2-3-2 record which has them sitting in last place in the Western Conference, and second last in the league. On the bright side the Flames are currently coming off a decisive win (4-1) against the Detroit Red Wings after losses to the Colorado Avalanche (6-3) and the Chicago Blackhawks (3-2).
Calgary has struggled with playing 3 full periods so far this year. The game against the Avalanche was tied 3-3 until the last three minutes of the third period. This was a disappointing loss for the flames as this was their first game in 4 days, while this was the Avalanche's second game in two days. Jiri Hudler was the bright spot in this game, as he posted two goals and one assist. Alex Tanguay recorded the other goal for the Flames.
The Flames next took on the Chicago Blackhawks, their toughest opponent yet. To most people's surprise, the Flames took the Blackhawks to a shootout, where ironically to no one's surprise they lost as the Flames have shown to be absolutely dismal in the shootout. Never the less, the game was an absolute nail biter as all regulation goals came in the last period where Jay Bouwmeester, put the Flames ahead with under a minute left. However, the Scotiabank Sattledome would be silenced as Marian Hossa scored with three seconds left to force the game to overtime.
The Flames kicked off their road trip against the Detroit Red Wings. This seemed to be a daunting task previous to the game commencing, but when the match was over the Flames had shocked people by stealing a win against a very stellar home team in the Red Wings. The Flames merely dominated all three periods, something the organization and fans had been waiting for since the beginning of the season. As a result, the Flames left with a 4-1 one win that will hopefully mark a turning point in this season for the Flames. Jarome Iginla finally notched his first goal of the campaign which will hopefully jump start his production. The only notable player on the team that has failed to record a goal yet this season is veteran Mike Cammalleri. Although his goal scoring abilities are in a slump, his point production has not faded too badly as he posted two assists in the victory. The only negative coming out of this victory was a pretty substantial one, an injury to Mikka Kiprusoff, the teams goalie and back bone. He is listed day-to-day at the moment.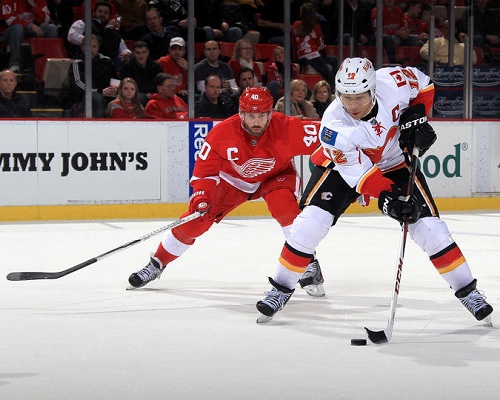 In other news:
The Flames signed Goalie Danny Taylor to a one year, two way contract Wednesday.
The goalie signed with the Abotsford Heat last season and has played quite well with them.
He will back up Leland Irving who will be taking Mikka Kiprusoff's place while he is injured.