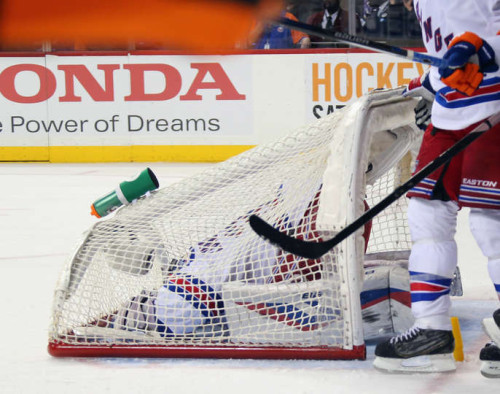 The New York Rangers began this season right where they left off the past two years, rolling. But, as of late the Broadway Blueshirts have struggled to win games.
With Metropolitan Division rivals such as the Washington Capitals and New York Islanders on winning streaks — plus appearing to be legitimate threats for the division crown, and with a Rangers' injury to a top six forward…
What The New York Rangers Are Thankful For
Should there be reason to panic in the Big Apple?
Why There Could Be Reasons For Concern
The Rangers have lost their last five out of six games, and two of which were to divisional opponents in the Philadelphia Flyers and Islanders. In that span, New York has only managed to find the back of the net nine times. Where in comparison the Blueshirts scored nine goals in just three games before that duration.
Sure, the Rangers' scoring has been spread out this season amongst players, but at some point or another this was bound to become a concern and catch up to New York. Forwards Derick Brassard and Mats Zuccarello are leading the way in scoring; then all-star Rick Nash is third on the team for points — but relying on one line to lead the team in scoring could cause problems going forward…
Brassard and Zucc are bound to hit a cold-streak at some point, especially with a team's majority of focus now on shutting them down. Nash, appeared to show some signs of goal-scoring-life just a couple of weeks ago, but the winger hasn't scored in his last four games, and has only recorded one point. And, let's get right to the point — even if Nash is playing good two-way hockey, let's face it — he was acquired to score goals, and timely ones for New York.
If those players aren't producing, then who's going to for the Rangers?
As good as rookie Oscar Lindberg has been — this team can only rely so much on the youngster to an extent, plus his production has regressed as the season has gone on too.
The injury to Derek Stepan is a dagger and salt in this current team's wound. The number two center being out of the lineup for an extensive period of time hurts New York's depth overall, but especially down the middle of the ice. The best NHL teams all have big-time centers, though the Rangers have been successful relying on a few good ones all at once — the injury now erases that Ranger strength.
New York's defense has had some concerns with players such as Dan Girardi and Marc Staal, but the offense hasn't been a good supporting cast lately either. When two of the best teams in the league meet — a final score shouldn't end in the result of a 5-1 loss at home — vs. Montreal Canadiens on November 25. Sure, it was just one game, but that's still not the brand of hockey the Garden Faithful have come to love over the past few seasons.
Fans also need to keep in mind that a team who typically goes on a deep playoff run makes a transaction at the trade deadline. It's almost a proven fact that Stanley Cup winners make deals at the deadline. Whether it's a subtle move to deepen a roster, or a bringing in another big name — who can help this Rangers team score goals when they'll need production most — a deal will have to be made by some point.
Who that will require parting ways with remains to be seen though…
Now, the Rangers are still a good hockey club and a playoff one for that matter. There's no need to panic in that aspect. But, it's time to reassess this Rangers' squad going forward if they want to reach what New York's been oh so close to the past two seasons, a championship.