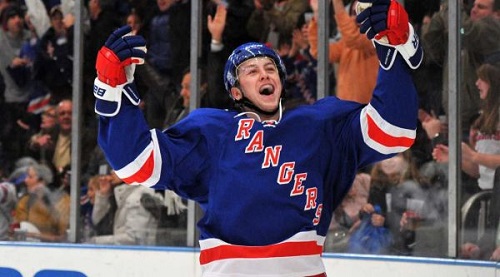 After a holdout that came two pre-season games short of lasting the entire off-season, Derek Stepan is a member of the New York Rangers again. The Rangers and Stepan agreed on a two year/$6.15 million dollar deal. Even though the Stepan camp felt as if they deserved a long-term deal, the two sides agreed that a shorter, "gap" contract would be more feasable.The issue during negotiations became what the value of the contract would be. After some negotiating tactics conducted through the press by Rangers GM Glen Sather and Stepan's agent Matt Oates, the two sides came to an agreement on Thursday afternoon.
There's no debating that the Rangers needed Stepan. He led the team in scoring last year, and played himself in to the team's top center spot. I don't think Stepan would have held out long in to the season, but the fact that the two sides were able to get something done with a week remaining before the Rangers season opener is huge. It allows Stepan to get some reps with his linemates, and not come in to the regular season cold.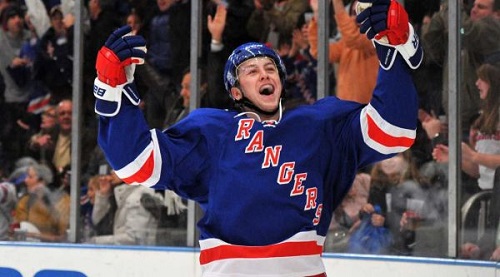 Right now, the Rangers have five centers in Stepan, Derick Brassard, Brad Richards, Brian Boyle, and Dominic Moore. There's no doubt that Stepan will be on the top two lines, but it gets interesting after that. Brian Boyle seems entrenched in the 3rd line center spot, Dominic Moore will likely center the fourth line, but what about Brassard and Richards? Brassard played well enough last season to earn the other top-six center spot, while Brad Richards' play looks like it's on the decline (although he won a good amount of face-offs). One of them could move to the wing, providing an extra face-off guy if one should get tossed from the dot.
The signing of Stepan means another move is coming. According to CapGeek.com, the Rangers Cap Payroll is a little more than one million over the $64.3 million ceiling. With the Rangers already down to seven defensemen on their roster, it will be a forward that will be on the move to the Rangers AHL affiliate in Hartford or on to another team entirely.