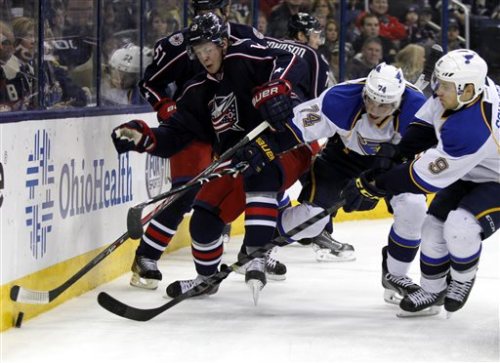 Anyone who thinks the recent re-signing of Jaden Schwartz with the St. Louis Blues will affect Ryan Johansen's contract talks is fooling themselves.
For the unaware, Schwartz, who tallied 25 goals and 56 points last year for the Blues, re-signed for two-years and $4.7 million. A clear bridge deal and probably the only option the younger really had given his standing as a restricted free agent with no chance of an offer sheet.
While it seems like that deal would hamper what Johansen and his team are trying to get – reportedly, the two sides have agreed on a length of two years, but Johansen's camp is trying to get $6.5 million per while the Jackets are offering significantly less – it's really a case of two very different players and situations.
It's not likely anyone offer sheets Johansen, but the possibility is technically there, so there's no doubt his agent will use that in the negotiations. There's also the fact that Schwartz was basically in a position where he was going to have to take what the Blues were going to give him or sit. The Blues are a very deep team with little in the way of cap who control Schwartz thoroughly. It was either take what they offered or don't play. Johansen is in a similar boat, but he's positioning himself as the burgeoning face of the Columbus franchise and an integral part in their push back to the playoffs. Both sides know how valuable he is to their efforts and there's no getting around that.
Lastly, there's the difference in positions they play. While Schwartz has a chance to be good, he's also a non-elite scoring winger. Compared to potential franchise centers, which definitely do not grow on trees, his value is much lower.
The course is likely the same is it was before the Schwartz deal: Johansen is likely headed towards an official hold out, missing the start of the season. From there, it'll just be a matter of who feels the heat first: Johansen, missing those wonderful paychecks he's grown accustomed to, or the Jackets, who would probably prefer to have their franchise center in the lineup.
Follow me on Twitter: @TwoPadStackRW
Love Reading About Hockey?

Subscribe to keep up-to-date with the latest and most interesting hockey news!
| | |
| --- | --- |
| | We hate spam just as much as you |