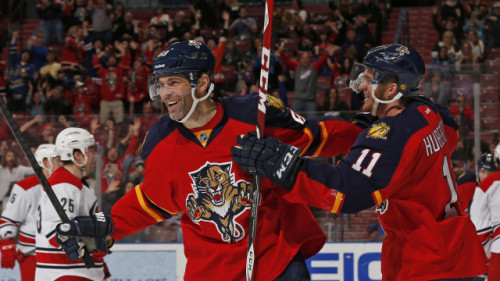 Say it ain't so, Jags.
After playing a mere 2:30 over the course of four shifts in Tuesday night's victory over the Colorado Avalanche, Florida Panthers' leading scorer Jaromir Jagr headed back to the locker room, nursing what David Dwork of CBS Miami has reported as a "hamstring injury."
Per Puck Daddy's Greg Wyshynski, Jagr only played in the game's first period, sitting on the bench for over ten minutes after his third shift before clocking a six second fourth. True to form, the Panthers categorized Jagr's ailment as the ever vague "lower body injury," listing the Czech legend as day-to-day.
For Panthers' fans, the prevailing hope is that this injury is, in fact, minor; one-third of a top line that has accounted for 20 of the team's 80 points, Jagr's absence robs the hockey club of another key component in the forward corps. With first-line centerman Aleksander Barkov sidelined for three to four weeks nursing a broken hand, the squad's balanced attack will need to step it up once again if they hope to maintain it's sixth-ranked offense (3.33 Goals For/Game). Individually, Jagr has been nothing short of stellar: placing second on the team in both Individual Corsi and Individual Fenwick per 60 minutes, the 43-year old winger has been a consistent driver of possession in spite of his tenth-placed 107:50 total Time On Ice figure.
Head coach Gerard Gallant, speaking to the press following the game, labelled the injury as minor, and according to the Miami Herald's George Richards, believes that Jagr could lace up his skates for Friday night's tilt against the Boston Bruins.
Which is good. In fact, it's great. It's downright fantastic. He's an absolute unicorn of a man.