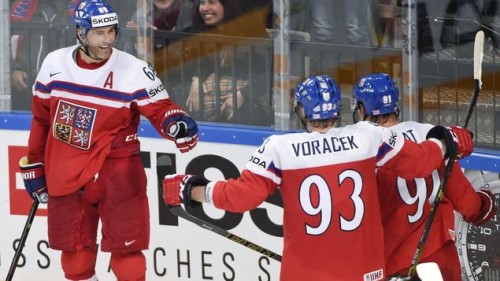 Jaromir Jagr became the oldest player to score in the IIHF World Ice Hockey Championship at 12:44 in the second period. The hometown legend's laser beam shot would hold up to be the game-winner, giving the Czech Republic their first win of the tournament.
Despite a beautiful backhand chance from Jan Kovar at 9:17 in the first period, Kaspars Daugavins would score the first goal for Latvia at 13:13 to finish the first 20 minutes with a lead.
The Czech Republic headed into the second hungry with Michal Jordan scoring his first goal of the tournament to tie the game. But Latvia responded 77 seconds later with a goal by Mikelis Redlihs, prompting Czech Republic head coach Vladimir Ruzicka to pull goaltender Alexander Salak in favor of Ondrej Pavelec. Just over a minute later, Jan Kovar responded on the power-play to tie up the game at 2-2.
With just under five minutes left in the second period, Kristaps Sotnieks gave the Czech Republic a five minute power-play after a slash, earning him a game-misconduct and a chance for the Czech Republic to take the lead. Jan Kovar set up a play with a pass to Martin Erat at the goal line. With Jagr in front of the net, all it took was a simple pass from Erat for Jagr to one-time an absolute laser beam behind Latvian goaltender Edgars Masalskis.
Jakub Voracek capitalized on a giant rebound off of Jan Kovar shot in the third period to put the Czech Republic up 4-2.
The Czech Republic would go on to earn their first win of the tournament. They face an undefeated Canadian team who have scored 16 goals in two games on Monday.